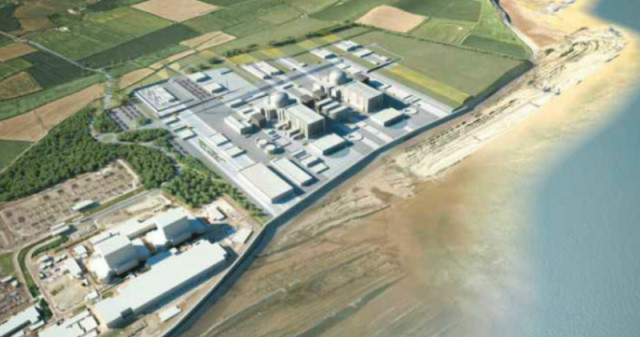 Somerset County Council has heralded today's government announcement on Hinkley Point C as one that will bring unprecedented investment and job creation to the county and the wider region.
As the largest engineering project in Europe, the construction of the new power station is a once-in-a-generation opportunity to boost jobs and economic prosperity, and to generate thousands of training opportunities for local people.
 Following a comprehensive review of the Hinkley Point C project, and a revised agreement with EDF, the Government has decided to proceed with the first new nuclear power station for a generation.
"Today's announcement by Government is long-awaited and extremely important," said Councillor John Osman, Leader of Somerset County Council. "This is a once in a lifetime opportunity for our businesses, young people and the county as a whole."
"We fully understand the additional time needed by Theresa May and her team wanting to make sure they have had every opportunity to give it their fullest scrutiny; this is a massive scheme that will bring the largest construction project in Europe to Somerset."
Councillor David Hall, Deputy Leader of the Council and Cabinet Member for Business and Inward Investment, said the long-awaited news from Government was "the final hurdle cleared" for the delivery of the nuclear power station in Somerset.
"Like everyone else we have been waiting for the Prime Minister and her team to confirm the government's commitment to the project. That they have given it the green light after this additional review and detailed scrutiny is a further endorsement of the scheme.
"A tremendous amount of work has been happening behind the scenes to be sure that we are ready for this very moment. We are committed to continue working together with the government, EDF and partners to see the development delivered as soon as possible and to fully realise the once-in-a-generation opportunities presented by the project to transform the local and regional economy."
"During construction alone, the project is expected to bring £200 million to the local economy whilst over the lifetime of the project, the regional economy is set to benefit by around £4 billion" he added. "It looks set to kick-start the national nuclear renaissance and will be the catalyst for economic growth in Somerset and the wider South West region."
To watch Somerset County Council leaders' reaction to the news, visit:https://www.youtube.com/watch?v=7H-WBdlW1SA
https://www.youtube.com/watch?v=Ba5CcbKQDwU
To find out more about the Hinkley Point C project in Somerset, please visit www.somerset.gov.uk/hinkley