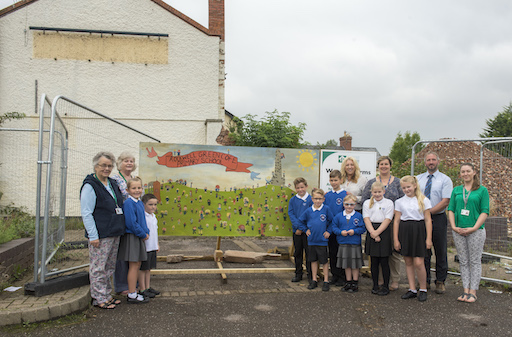 A colourful mural painted by local school children is being displayed onsite at the Weavers Arms development in Rockwell Green, Wellington.
The scheme which includes demolition of the Weavers Arms public house, the adjacent public toilet block and ten Woolaway properties in Oaken Ground will provide 26 new Council homes to meet a range of housing needs for the area.
The artwork by pupils from Rockwell Green Church of England Primary School has been mounted on display boards to brighten the street scene for residents and passers-by whilst construction work takes place.
Materials for the 2.5 by 1.5 metre mural were funded by the Council's Tenants Forum who oversee improvements to estate management and communities.
Chairman of the Tenants Forum, John Beaman, said:" We are always looking for ways to improve the day to day experience for our communities and this project really fits that bill. It was a pleasure to be able to provide the raw materials which have given local children a chance to show their talent."
Morwenna Dunstan, Head Teacher of Rockwell Green Primary School, said "It was a great project which involved the whole school. The children really enjoyed creating it, and are looking forward to seeing it every day on their way to school."
Thomas, who is in the Year 6 Woodpecker Class said, "It was really fun being able to be creative and paint ourselves. I think it looks awesome and I am looking forward to seeing it in the village."