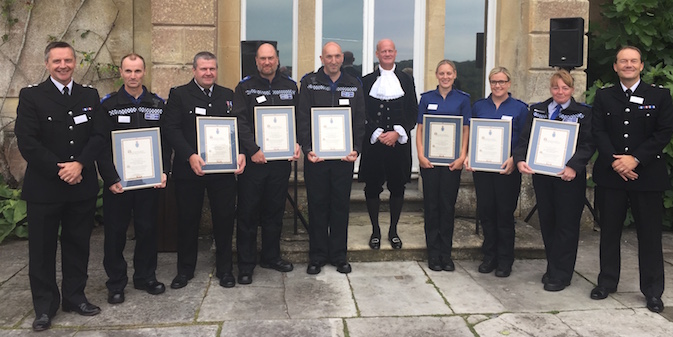 Police officers and staff have been recognised for their contribution to communities in Somerset by the county's High Sheriff, Edward Bayntun-Coward.
He presented awards to a PC and six PCSOs at an event at the American Museum in Bath on Monday 12 September, attended by the North East and Somerset policing area commanders, Chief Superintendents Ian Smith and Ian Wylie.
Mr Bayntun-Coward said: "I was delighted to be able to use the opportunity of my Garden Party at the American Museum to present awards to seven outstanding individuals who represent all that is great about British policing."
PCSO Paul Johnson was nominated for his involvement with the Link Power project in Halcon, Taunton. The project offers local people an opportunity to contribute to the community and learn new skills.
Under Paul's leadership the project has developed into a thriving new business, run by volunteers, which is having a positive impact on individuals and the community.
The volunteers focus on keeping the area clean and tidy by operating two litter carts each day, running a van to clear rubbish from the homes of vulnerable residents and cutting grass.
In the past six months more than 22 tonnes of rubbish has been removed thanks to the volunteers who have also raised £500 for BBC Children in Need.
PC Stuart Peard was recognised for his commitment to his North Mendip beat. Described as an integral member of the team and a keen and diligent officer, PC Peard is well-known by local people. He often puts in extra hours to support the community and his colleagues.
PCSO Gary Maule was nominated for his work setting up a Citizenship Award at Oakfield Academy in Frome.
PCSO John McNally was recognised for his work with vulnerable young people in Frome. He has been working on a six-month programme to support them, including classroom-based learning about issues like drug and alcohol misuse, knife crime and diversity.
PCSO McNally has also arranged practical lessons such as First Aid and is now encouraging the young people to develop community-based activities like helping on allotments.
PCSO Kerry Clark and PCSO Kylie Channing were nominated for their work on the Bournville and Oldmixon beat in Weston-super-Mare by Kate Blackburn, the Police Youth Project Co-ordinator for Somerset, who said: "They never cease to amaze me with their commitment and hard work."
The pair have developed and co-ordinated many diversionary activities for children and young people in the area, including a youth club. The citation described them both as having a "passion to enrich the lives of and safeguard children and young people".
They have even arranged a 'walking bus' to make sure children can travel safely to and from the activities.
PCSO Kelly Gould was recognised for her passion for her work and the community in Bath. Her nomination noted her dedication and tenacity and praised her local knowledge as 'invaluable' in finding missing people and tackling crime.
The High Sheriff is a member of the board of the Somerset Crimebeat Trust http://www.somersetcrimebeat.org/, which funds many policing projects in Somerset.