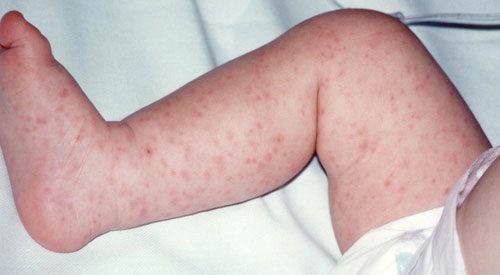 John McGinn from Wellington is sharing his first-hand experience of meningitis with the local community during national Meningitis Awareness Week (19-25 September 2016) to ensure people are aware of the symptoms, know to be vigilant and act fast.
"This year is the 20th anniversary since my daughter Nicky Price lost her fight against pneumococcal meningitis. She was only 28 years old and she left behind her husband Shaun and two year old daughter Chloe. No family should have to go through what we did, and that's why we encourage everyone to know the symptoms of meningitis and septicaemia so they can get medical help quickly. We marked the 20th anniversary with a hugely successful tribute night for the local community, raising funds for Meningitis Research Foundation to help in the battle against all forms of meningitis and septicaemia."
Meningitis Awareness Week is run by Meningitis Research Foundation (MRF). The charity estimates that there have been on average around 3,200 cases of meningitis and septicaemia every year in the UK. They are deadly diseases that can strike without warning, killing one in ten, and leaving a quarter of survivors with life altering after-effects ranging from deafness and brain damage to loss of limbs. Babies, toddlers and young adults are most at risk, however these diseases can strike anyone, of any age, at any time.
MRF Chief Executive, Vinny Smith said, "We are so grateful to John and his family for raising awareness in Somerset during Meningitis Awareness Week. MRF funds vital scientific research into the prevention, detection and treatment of meningitis and septicaemia but there are still some forms of the disease which are not covered by vaccines so it is vital that people are aware of the symptoms. We encourage everyone to be vigilant and to get medical help if you spot the symptoms."
Check that you know the symptoms of meningitis and septicaemia at www.meningitis.org/symptoms and share the Meningitis Awareness Week campaign (http://www.meningitis.org/maw2016) with everyone you know using #MRFAwarenessWeek.
For any questions about meningitis, septicaemia and vaccinations that can prevent the diseases call MRF's Freefone helpline on 080 8800 3344 or log on to http://www.meningitis.org.