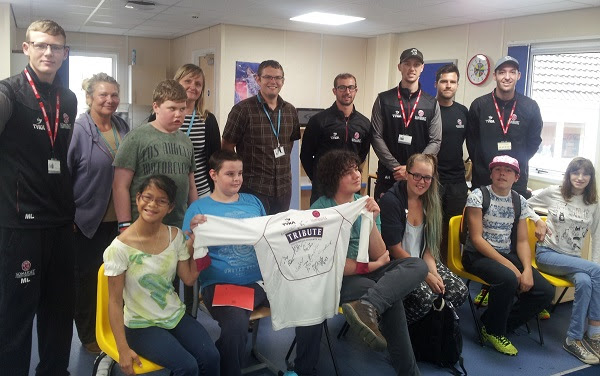 A number of Somerset players recently spent the afternoon at Selworthy School in Taunton.
Selworthy School is a co-educational special school for children and young people with learning disabilities aged 4 to 19 and Adam Hose, Alex Barrow, Michael Leask and Paul van Meekeren visited the school to deliver an afternoon cricket session for the sixth form students.
The players also had a tour of the school, got involved in some of the classes, met with the students and took part in some break time activities.
They also donated a signed shirt that the school will use to help raise funds.
After the visit Michael Leask said:
"It was been a great day and it was quite humbling.
It was awesome to see all the hard work that everyone does for the kids and it was interesting to see the wide range of learning that goes on.
The best part of the day was to see the smiles on the kid's faces when we were going around the school.
We met one little girl in particular who was really shy when we arrived but when no one was looking she kept asking me questions like "who are you?" with a big grin on her face! Going out in to the local community is so important and I'm looking forward to going back to Selworthy School again soon."
Paul van Meekeren also enjoyed the visit.
"It was special to see the amount of attention that the children were getting," he said.
To help out with those guys was really rewarding. I really enjoyed the visit. It was great to play some cricket and some basketball with the kids and it was fantastic to see everyone enjoying themselves."
Head Teacher Mark Ruffett said: "We always enjoy visits from Somerset County Cricket Club and this was no exception. The opportunity to have a training session with international cricketers is a privilege and our secondary learners had a wonderful time."
Spencer Bishop from the Club's Commercial Department said:
"This is our third visit to Selworthy School recently and I'm really pleased that this is becoming a regular event.
All the staff at the school do a fantastic job and the players genuinely enjoy coming down and getting involved.
There are some great characters at the school and everyone had a brilliant time during the cricket session.
We look forward to paying the school another visit soon. A special mention has to go to Andrew Skidmore from the Somerset Cricket Board who came along to help run the session."