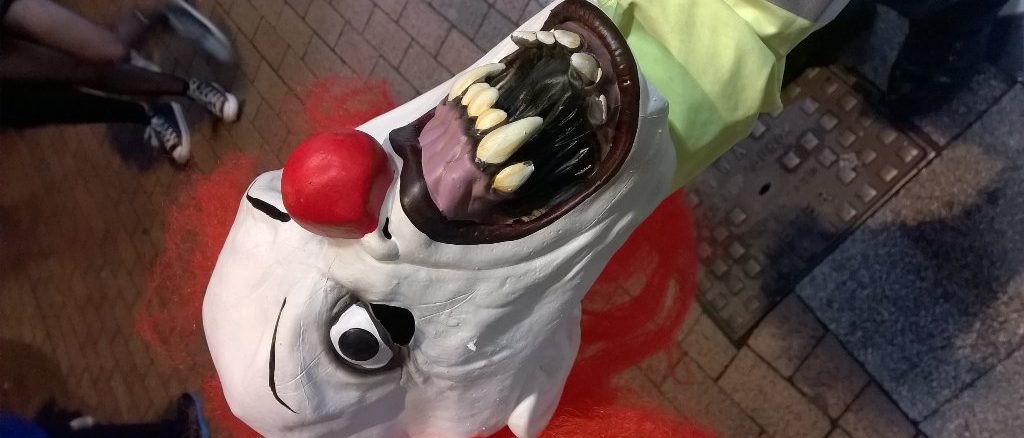 Avon and Somerset Police have seized a clown mask from a youth scaring children in Taunton.
The mask was pictured in a tweet by police over the weekend who said they will not tolerate this behaviour.
Mask seized from youth scaring children. This behavior will not be tolerated. #SomersetAfterDark pic.twitter.com/wamTNaLERd

— ASPTaunton Central (@ASPTauntonTC) October 15, 2016
Avon and Somerset Police have received several reports of people dressed as clowns and behaving in an anti-social and threatening manner.
Insp Julie Knight, of the Local Policing Directorate, said:
"We don't want to stop people enjoying themselves but we'd like to ask people to consider how their behaviour will affect others.
These incidents can potentially be very distressing and frightening for those involved and we are taking all reports made to us seriously.
Anyone involved in intimidating or threatening behaviour may well end up committing an offence, being arrested and having a criminal record and we'd urge them to think carefully about the consequences of their actions.
We're aware of a number of social media groups raising concerns about this type of behaviour and we'd ask people to refrain from taking matters into their own hands and to report anything they are worried about to us.
We'd also like to remind people that in dealing with these issues valuable police resources are also being used, potentially impacting on our capacity to respond to other more serious incidents."
Anyone with information can report it to police by visiting www.avonandsomerset.police.uk/contact-us/tell-us-something
Avon and Somerset Police, who have launched Somerset After Dark, their county-wide, multi-agency Autumn safety campaign, said:
"Officers from across Somerset will be out and about to ensure all the residents and tourists attending the annual carnivals have a fantastic time.
But, anyone seeing it as an excuse to get drunk and spoil the fun for others will see their night ended early by the officers, PCSOs and Special Constables patrolling the various events."
Chief Inspector Mark Edgington, Local Policing Commander for East Somerset, said:
"Carnivals are a fantastic Somerset tradition and they are wonderful events. We want everyone to enjoy them and the variety of firework displays and Halloween festivities on offer for the next few months.
The message from us and our partners is simple – enjoy yourselves, but do so safely, legally and responsibly.
We are working with our partners across the district councils, Trading Standards and Avon and Somerset Fire and Rescue and have launched "Somerset after Dark". The campaign will support our operational activities during the Bridgwater Fair, Halloween, the carnivals and Bonfire night and will include crime prevention, personal safety and travel tips to make sure everyone can enjoy the fun.
We would appreciate the public's cooperation by being mindful of other people, particularly Trick or Treating at Halloween, which some people can find intimidating.
Over the next month we will be working with local schools, shops and licensees in the run up to Halloween to deliver some key messaging and implement measures to hopefully minimise any anti-social behaviour. Have fun but please be sensible, especially in regards to fireworks and alcohol. Remember the basic safety tips so you have a fun night and we can have a quiet night."