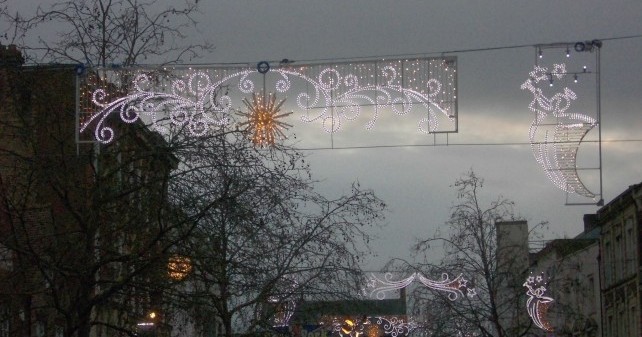 Taunton has unwrapped its packed programme of events ensuring an exciting run-up to Christmas.
The town is set to host a variety of events for residents and visitors to enjoy including markets, shows and a charity run. Lights and Christmas trees will be up in the town centre thanks to funding from the Council.
The focus on fun events and activities for all the family follows the success of last years' Christmas programme which saw something for everyone to enjoy.
Councillor Mark Edwards, Events Champion and Deputy Leader of the Council, said:
"The lights will give our town a festive feel which together with a mix of traditional and modern events should ensure an exciting run-up to Christmas for all."
Two early events will give people a chance to do some Christmas shopping in festive surroundings – from Friday 18 to Sunday 20 November there will be a Christmas Market at Hestercombe Gardens, and on Saturday 19 and Sunday 20 November the Rural Living Show will be held at Kings Hall School.
Late night shopping starts with a number of the big retailers in Taunton on Thursday 24 November and will continue each Thursday until 22 December, all until 21:00.
The popular 'free after three' car parks initiative will also be launched on Saturday 26 November and will run each Saturday to 22 December.
Thursday 1 December will see activity stepping up in Taunton when Apple FM and Tone FM will present Taunton Christmas Fest Live in Castle Green featuring Father Christmas, live musicians and entertainment including a special performance from Filta with a choir as well as an inflatable Christmas pudding.
The fun-filled live show will set the scene for a special late night opening at the Museum of Somerset and the switch on of Christmas tree lights within the green.
Later in the month on Tuesday 20 December the Museum will also host a Medieval Christmas which promises to be entertaining for all ages.
The Christmas craft market will also start trading in Fore Street from Thursday 1 December selling toys, jewellery, preserves, woodwork, pottery and more until Sunday 18 December.
Anyone looking for their usual quality local food and drink with some festive flavours too will also have plenty of opportunity to shop at the Taunton Farmers Christmas Markets on Thursday 1, 8, 15, 22 December.
Castle Green becomes the focus again on Thursday 8 December when the fund raising spectacle Santa's on the Run takes place in aid of the Children's Hospice South West.
Hundreds of people across the region will be taking part in the 2k festive fun runs right through the town centre.
To sign up for the Taunton event go to http://www.chsw.org.uk/events/christmas/santas-on-the-run/taunton
Ice skating is always a popular attraction at Christmas and from Saturday 3 December to Sunday 1 January the annual Festive Skating and Illuminated Winter Trail will be at Hestercombe. Father Christmas will also be taking up residency in his grotto there from Saturday 10 to Saturday 24 December.
Paul Street will be the focus on Thursday 22 December 2016 where there will be a laser show on the front of the United Reformed Church telling the Christmas story, this will be accompanied by live music in partnership with the CICCIC.
Lastly Christmas wouldn't be Christmas without the traditional pantomime. This year a fun-filled version of Around the World in Eighty Days will be presented at the Brewhouse Theatre from Saturday 10 to Saturday 31 December.