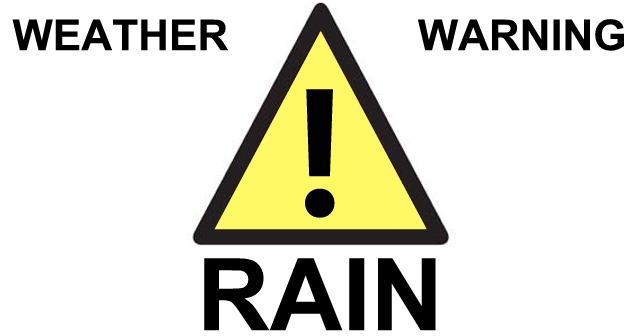 Further heavy rain is expected across South West England on Monday.
A yellow weather warning of rain has been issued for Bath and North East Somerset, Bournemouth, Bristol, Cornwall, Devon, Dorset, Gloucestershire, North Somerset, Plymouth, Poole, Somerset, South Gloucestershire, Torbay, Wiltshire from 03:00 to 23:55 tomorrow (Monday).
The Met Office said:
"On Monday a further broad area of heavy, persistent rain will extend northwards across southwest England and Wales.
The heaviest rain is expected to reach southwest England in the early hours of Monday and to reach north Wales by around the middle of the day.
Although the more persistent rain should clear from southwest England into the afternoon, heavy and possibly thundery showers are likely to follow.
Strong northeasterly winds will also develop for a time giving gusts of 40-50 mph.
Please be aware of the possibility of localised flooding and disruption to transport."
A flood alert was issued by the Environment Agency for the River Tone catchment this morning (Sunday).
The flood alert states:
"The rainfall is forecast to continue until about 05:00 am on Sunday 20/11/2016 with another 10 mm expected before Storm Angus has passed through the area.
River levels on the River Tone at Greenham, River Tone at Bishops Hull, River Tone at Taunton, Hillfarrance Brook at Milverton and Halsewater Stream at Halsewater are rising slowly.
However, the River Tone between Waterrow and Taunton is rising more rapidly and is currently forecast to peak about 08:00 this morning just below the Flood Warning threshold for this stretch of the river."