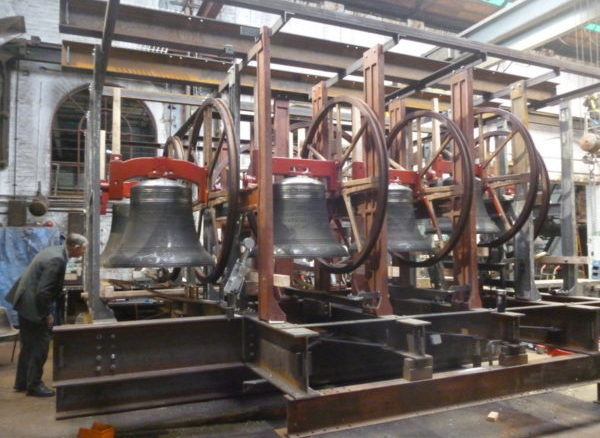 New bell clappers have arrived at Taunton's St Mary Magdalene Church.
As part of the church's renewal of bells project, the clappers, which are being sponsored, were laid out in the Soldier's Corner and the very skilled task of adding lettering on them was carried out according to the sponsors' wishes.
The frame was fully assembled by John Taylor in Loughborough who also fit the bells and carillon hammers so that everything fits together and nothing is missing before it comes down to Taunton by lorry for re-assembly in the tower.
Preparations are continuing in the tower and it is hoped that work will be completed before Christmas.
Speaking earlier this month, Vicar, Rod Corke, said:
"The good news is that this will be the last Remembrance Sunday when we will be without our bells to mark time and call folk to worship.
The new bells will be delivered very soon and, currently, the bell hanging team are preparing the tower for the new bell frame.
When the bells arrive we hope to bless them and those who ring them in a 10.00am communion service.
The bells have been given names which are connected with our church in some way.
These have been taken from a list given by members of our congregation and our bell ringers.
They are: Elizabeth (Queen), Mary (Magdalene) Andrew (Saint), Augustine (Saint & Priory), Ina (Saxon King), Dunstan (Somerset Saint), Lydia (Early Church), George (George Scott, architect) Benjamin (Hammet), Blaise (Saint of wool workers), Swithin (Saint, Winchester connection), James (Cottell – former vicar), Alfred (Christian King), Thomas (Disciple), John (Evangelist, sister church).
As yet, we can set no date because we are unsure how long the work will take in the tower – but hopefully it will be before Christmas."