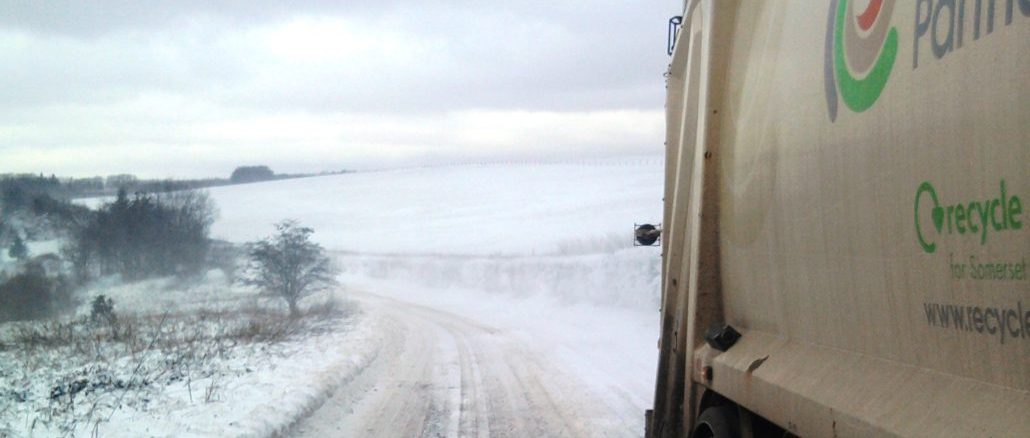 Icy blasts, high winds and rain, or even snow, could disrupt winter waste collections, and residents must ensure they are prepared, Somerset Waste Partnership has warned.
Somerset Waste Partnership all efforts will be made to maintain services, if conditions are judged safe, but crews with heavy loads on large vehicles visiting streets crowded with cars cannot take risks with the public.
If collections are delayed or halted by snow, ice, wind or rain, crews will make a return pick-up as soon as possible.
If recycling is missed, residents should put out containers by 07:00 for up to four calendar days, and up to seven calendar days for rubbish.
If there has still been no collection, residents should take containers back in and put them out by 07:00 on the next usual collection day. And everyone is urged to assist vulnerable neighbours.
Collections will already be one day later in the fortnight after Christmas, including Friday pick-ups on Saturdays, while garden waste services are suspended. All services are back to usual from Monday 9 January 2017.
Recycling sites will all be on their standard schedules, apart from closing as usual on Christmas Day, Boxing Day and New Year's Day.
The weather warning comes on top of worries that internet shopping sprees could overload recycling trucks and stop collections if too much cardboard is put out.
The "Amazon avalanche" of cardboard boxes disrupts collections by forcing trucks to stop work to return to their depot to unload card when space remains for everything else.
Official advice is that no more card than the equivalent of two recycling boxes can be put out for a single weekly collection.
A Somerset Waste Partnership spokesman said: "Our crews and trucks cannot collect very big pieces or large loads of cardboard. If you put them out, they will be left.
"Tear or cut up large sheets, flatten all boxes, and either store any excess materials to add some each week or take the card and everything else except food waste to a recycling site."