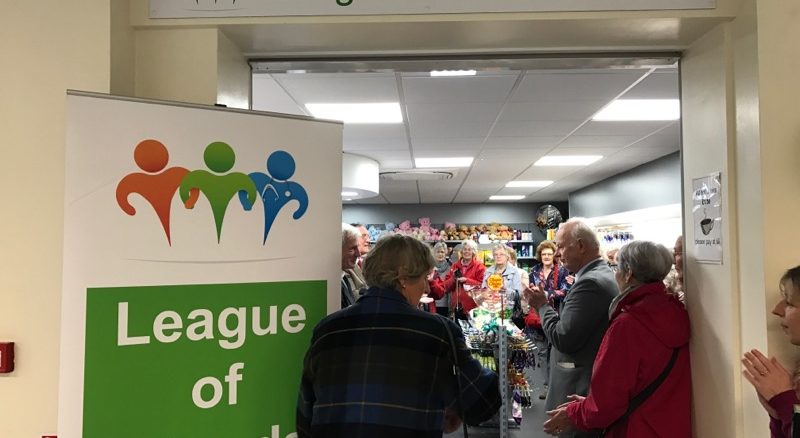 The new League of Friends shop at Musgrove Park Hospital has officially opened this afternoon (Monday).
Trust Chairman Colin Drummond represented the hospital and Eddie Pegge (whose wife Margaret was well known locally as a staunch supporter of the League for 42 years) cut the ribbon when the shop was officially opened at 15:30.
The purpose-built shop on the Duchess Building main corridor, is the long-awaited culmination of more than two years' work by the League, working with the hospital.
Shop Director and volunteer Michael Fry said:
"This is a big step for the League. It has been a lot of work, but it is a long-term project. This is a much nicer environment for volunteers to work in and now the League of Friends are set up for the next 20 years".
A new brighter logo is unveiled in the shop. It depicts the League working hand in hand with the hospital to support the patient. The shop itself is brighter and more spacious, with larger stockroom and office and now uses an up-to-date stock system.
A state-of-the-art coffee machine is a new service, delivering take-away hot drinks. Chilled sandwiches are also available as well as the usual newspapers, greetings cards, toiletries and other essentials.
The shop is manned by a large team of Volunteers who work in pairs for suitable shifts in the shop and taking shop trolleys around the wards.
The shop is currently open until 16:30 and again from 18:30 – 20:00.
Mike Fry said:
"We would like to stay open from 16:30 to 18:30 but we need more volunteers in order to do this."
President of the League, former A&E Consultant, Chris Cutting said:
"We are really grateful to staff and volunteers for all their hard work in getting the shop customer-ready".