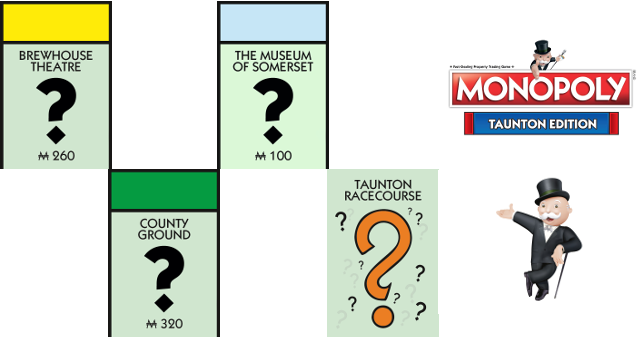 Taunton has won a Somerset MONOPOLY race by a 'West Country mile', it is being announced officially at 10am in the town (though you may have heard it earlier this morning live on Apple FM!).
The public has been voting all this year for one of five Somerset cities and towns to get its very own official MONOPOLY game for this Christmas. The other four in the race were: Weston-super-Mare – who came runner-up – Glastonbury, Wells and Yeovil.
Taunton now becomes the very FIRST city or town in Somerset to land its own official MONOPOLY game.
The public announcement will be made at 10am today at The Museum of Somerset, which is tipped to feature prominently on the board as is The County Ground, racecourse and us at Apple FM !
From today the public is being invited to vote all over again – this time over a much shorter voting period (just over two weeks) and to suggest town landmarks to fill the edition.
"Congratulations to Taunton for winning the race," says Natasha Rebuck, Custom Games Development Executive. Ms Rebuck will be making the formal announcement today at the Museum.
She went on: "Very many of the landmarks in Taunton are extremely well known and loved. We will take all the suggestions on board and thank you to everyone who has joined in the MONOPOLY debate!."
The game will see around 30 leading Taunton landmarks replacing the famous MONOPOLY addresses like Mayfair and Park Lane.
Very many of the Chance and Community Chest cards will be Taunton themed too. One could send players back three spaces for getting stuck in Taunton traffic!
The game will be released in time for this Christmas (2017) and hit shop shelves this October.
Ms Rebuck added that as well as the game showcasing the finest of Taunton's landmarks all of the MONOPOLY sets of two, three and four will be "exclusively" Taunton. The customised sets will span the world of tourism, heritage, arts, leisure, education, entertainment, travel, sport and other sectors.
She said: "The game will reflect the flavour and feel of Taunton."
Votes and suggestions to: taunton@winningmoves.co.uk or by traditional post to: MONOPOLY Taunton Edition, Winning Moves UK, 7 Praed Street, London W2 1NJ. Polls have just opened and close at 23.59pm on 23rd April (2017).