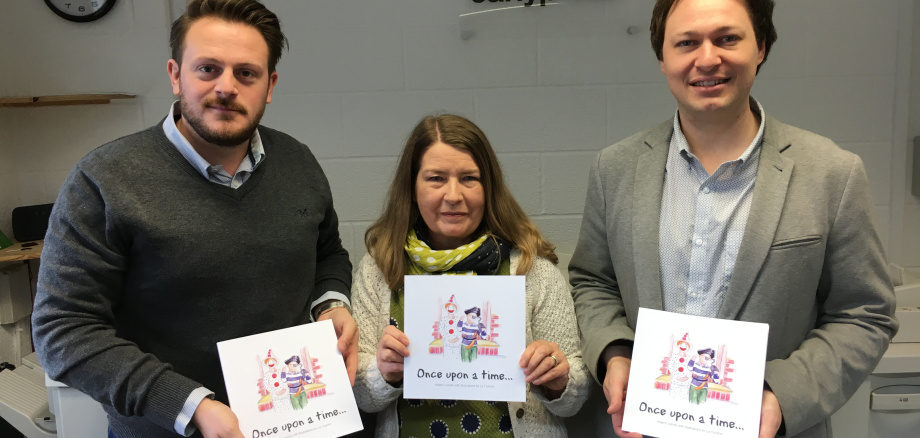 Stand Against Violence's new picture book for primary school's has been announced as a finalist in the 2017 Taunton Deane Business Awards.
Liz Hutchins of Busylizzie Art & Literacy Ltd created the book to help younger children learn about the consequences of violence.
The book tells the story of Lloyd Fouracre's life and how he was killed in a sensitive and age-appropriate way.
The book has been shortlisted for the 'Creative Industries' category at this year's awards. The winners of all categories will be presented at a sparkling evening of celebration at Somerset County Cricket Ground on Thursday 8 June.
Liz Hutchins said:
"It feels amazing to be shortlisted for the Creative Industries Award, and how great would it be for SAV, if an award was won? In actual fact, creating 'Once upon a time', completing the illustrations and seeing the book in print along with planning and delivering the Primary workshops has already given me a great sense of achievement and feeling of pride!
Hopefully the status of 'finalist' in the TD Business Awards will serve to further promote the fantastic work of everyone associated with the charity."
Adam Fouracre, CEO of Stand Against Violence, said:
"We are extremely pleased to hear that Liz has been shortlisted. She truly deserves to be recognised for her exceptional work and dedication. Liz's work has been invaluable to SAV helping us to grow as a charity and reach out to a younger audience with our work. We are very grateful to Liz and look forward to continuing to work with her. We wish her the best of luck with winning the award."
Some of the artwork featured in the book can be found on Liz's website at https://busylizzieart.co.uk/2017/03/09/special-delivery/. Anyone interested in booking workshops with Stand Against Violence should visit http://standagainstviolence.co.uk/contact-us/