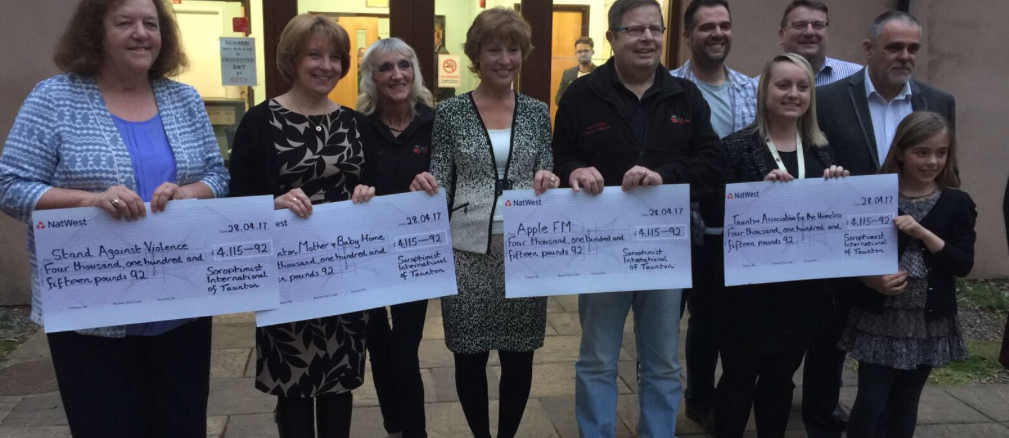 The Soroptimists Swimathon presentation took place on Friday evening (28 April) where, Taunton MP, Rebecca Pow presented the cheques to this years recipients. The money was raised via a sponsored Swimathon which took place at Taunton School on 18th and 19th February. A total of more than £16,000 was raised over the two days. The four charity organisations this year were Apple FM, Stand Against Violence, Taunton Association for the Homeless and the Taunton Mother and Baby Home.
Stand Against Violence is a specialist violence prevention charity focused on educating young people about the consequences of violence. The Taunton Association for the Homeless are focused on rebuilding the lives of the homeless in the south west. The Taunton Mother and Baby Home, which recently opened in Taunton, offers supported accommodation for pregnant women or mothers and their babies. Apple FM is a community radio station that connects the care community of Taunton Deane. From Musgrove Park Hospital to outreach care facilities across the Deane.
Speaking about the injection of money raised by the Swimathon, Apple FM MD Phil Hodgson said "Taunton Soroptimists' generosity will allow Apple FM to continue providing its fabulous community radio service for many years to come with up to date equipment and software, with less technical problems. This amount is truly amazing and I would like to extend thanks to everyone that took part in the swimathon and raised sponsorship money that went towards the grand total amount that was then split between the four recipient voluntary organisations from the Taunton area that were lucky enough to receive these fantastic amounts".