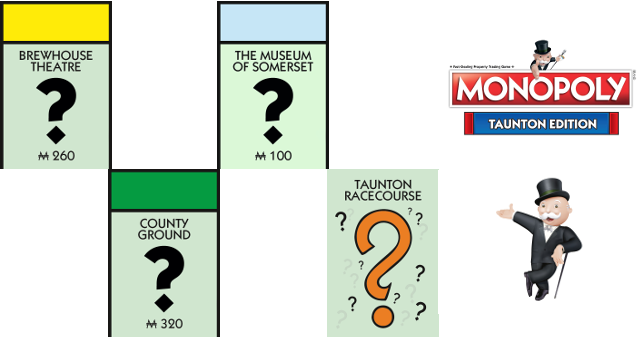 As a thank you to the "phenomenal response" from the public to the new Taunton MONOPOLY edition, games' executives are now offering THREE town charities the opportunity of featuring in the game. Polls close this weekend!
The announcement that Taunton is getting an official game for this Christmas was made earlier last month.
Natasha Rebuck, from the makers of this new edition – London-based Winning Moves UK, under official license from Hasbro – says:
"We are now trebling our original offer and are delighted to do so. So now three Taunton based charities will now appear on their very own exclusive spaces in the game. They will feature on either a Community Chest or Chance location. The response to our initial recent invitation for nominations for one and then two charities to feature on the board has been beyond all expectation. We have been very pleasantly overwhelmed with hundreds of suggestions, so we are now offering three charities this opportunity. Polls close this weekend."
Each of the three charities must be registered with the Charity Commission of England and Wales and be Taunton related.
Ms Rebuck – Custom Games Executive at Winning Moves UK – adds:
"We would like to formally thank each and every person who has voted."
The public has also been voting for town landmarks to appear on the multi-coloured spaces made famous in the original London game. Every location from Mayfair to Park Lane has been up for grabs, along with most of the Chance and Community Chest cards which will be heavily Taunton themed too.
"We have so far received the most wonderful suggestions and nominations," adds Ms Rebuck.
"Thank you to everyone in the town who has taken the time to send in these great suggestions. Some people have said players should be fined for getting stuck in town centre bottleneck traffic. Others have suggested players be sent to Bristol or Weston instead of the famous MONOPOLY jail!"
"The board will feature and star the great and the good of Taunton."
The board, out in October in time for Christmas, is also proving hot property with retailers. The following stores have announced they will be stocking the new game:
Amazon
The Works
WHS
Waterstones
Argos
Votes to: taunton@6starpr.co.uk or for either by traditional post to: MONOPOLY: Taunton Edition, Winning Moves UK, 7 Praed Street, London W2 1NJ. Polls close at 23.50 on Sunday 7th May (2017).