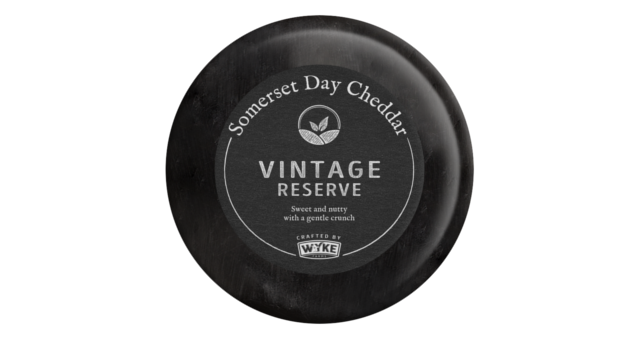 The county of Somerset is famed world-wide as the heart and home of Cheddar cheese and much-loved cheddar brand, Wyke Farms, has now launched a special 'Limited Edition' Somerset Day Truckle in honour of Somerset Day – which takes place on May 11th – to mark the day and celebrate all that is good and great about the county.
Specially crafted from Ivy's Vintage Reserve Cheddar (an age-old recipe handed down from Grandmother Ivy Clothier – a Somerset-bred pioneer), The Wyke Farms' Limited Edition Somerset Day Truckle has been left to mature for over 15 months and then carefully selected by Wyke Farm's own Master Cheese Grader to ensure only the very best flavours are incorporated into the Truckle, which has been waxed in a stunning black and gold livery to grace the finest of cheese-boards.
Managing Director, Richard Clothier, says that his grandmother's recipe has won more awards than any other Cheddar, and is currently loved and enjoyed in over 160 countries:
"The 'Limited Edition' Somerset Day Truckle offers a true taste of Somerset and it felt like a fitting way for our business to honour Somerset Day. I am immensely passionate when it comes to Somerset and the county will always be the home of our business. Now, consumers can now enjoy a direct taste of the region to honour the 11th May celebrations".
The Limited Edition Somerset Day Truckle is available to buy online www.wykefarms.com/shop or visitors are all welcome at the Wyke Farms' Farm Shop in Bruton (White House Farm, BA10 0PU).
Wyke Farms also plan to giveaway the Truckles on their social media channels in celebration of Somerset Day.
For more details on Somerset Day, check out www.somersetday.com or follow Somerset Day on @SomersetDay1 and @LoveSomerset.