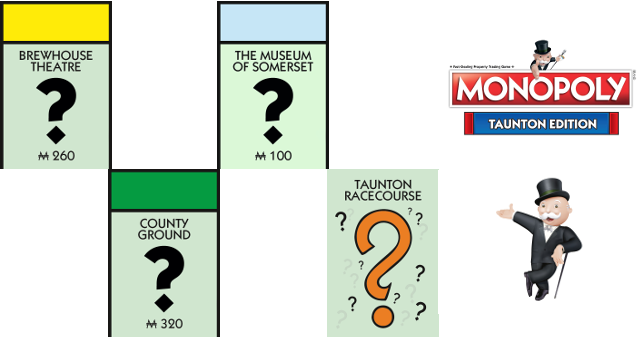 Time is still available to vote for the Charities that will appear on the Taunton based Monopoly board after the County Town won a County-wide competition. The Board is due out in time for Christmas.
As well as landmark properties around the town, three registered charities are being offered the opportunity to appear either on a community chest or a chance location.
Sadly, an error was made with the email address given out by the board makers for votes for your favourite Charities to be considered to win a place on the Board, in one of the Chance or Community Chest Squares. So if you've been trying to vote and having difficulties, make sure you get in touch once more with your votes!
Send your email votes to: taunton@winningmoves.co.uk
Alternatively, you can write to MONOPOLY: Taunton Edition, Winning Moves UK, 7 Praed Street, London W2 1NJ.
All votes must be in by 11.50pm on May 31 to count.
Stores which have announced they will be stocking the game so far are Amazon, The Works, WH Smith, Waterstones and Argos.