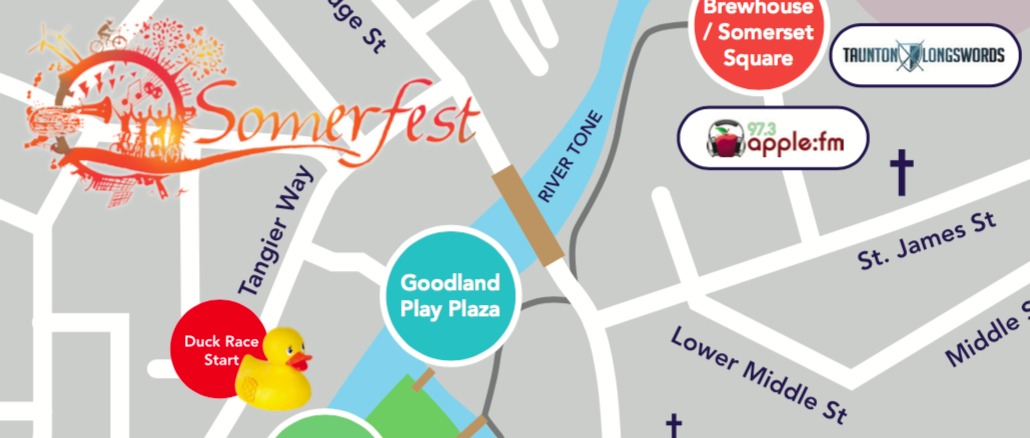 Taunton's leading festival of performance, arts, theatre, sport, circus, dance, music and theatre, Somerfest, returns to the town tomorrow (Saturday).

Enjoy the fabulous free programme of shows throughout the town and walkabout street theatre performances, discover Bath Place shops and Riverside Courtyard for treats and cafes and follow the fish and flowers made by local children celebrating the river and green spaces in Taunton.

Events taking place during the day include the Great Somerset Duck Race in aid of Cancer Research UK and the Taunton Longsword Association Challenge.

A free family party will be taking place at the Brewhouse / Somerset Square to celebrate the Brewhouse's 40th birthday. There will be delicious street food, theatrical performances, acrobatics, dance, Apple FM, craft workshops, games and birthday cake! The Taunton Longsword Association Challenge will be taking place throughout the afternoon.

Goodland Gardens will be full to the brim with music, stalls, green crafts, environment and nature areas, family and children's activities.

Castle Green will host a traditional merry-go-round, street theatre, dance, circus antics, aerial performance, Compass Disability Boccia and great festival food throughout the day.

Street theatre, music and markets will be in full swing throughout the town.