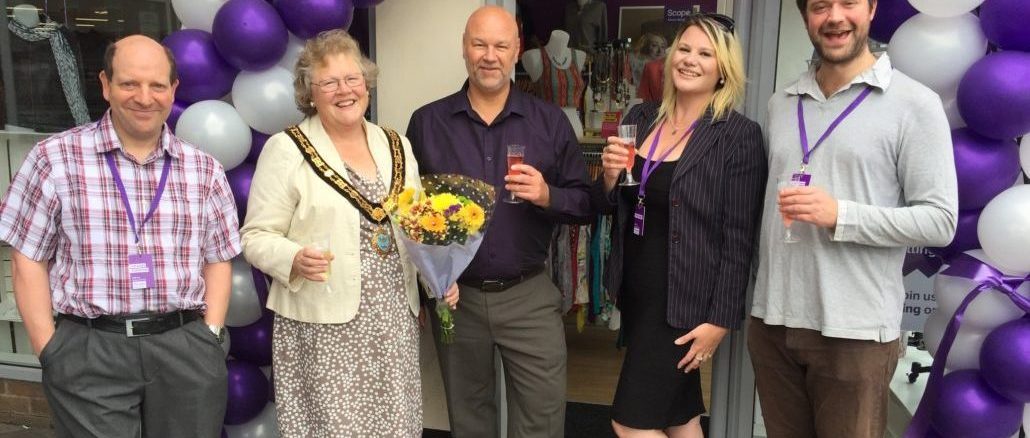 This week saw the re-opening of Scope charity shop in Taunton following a ten month closure after a fire affected the premises last year.
The re-vamped charity shop was officially re-opened by the Mayor of Taunton Deane, Councillor Hazel Prior-Sankey on Friday.
The new shop is light and bright giving it a spacious feel and new ranges have a mix of quality fashion from designer labels to high-end high street as well as eclectic home-wares at highly competitive prices.
Alongside the re-opening, Scope is releasing new research which reveals that people living in the South West of England are the most generous charity donors in England with a staggering majority (89%) of residents donating to charity shops. Bargain hunters in Taunton will be pleased to know that over half (53%) of clothes donated in the region have not been worn and over a third (36%) of residents admit to having up to five unworn items lurking in their drawers.
Shop manager, Eithne Cusack-Atkinson, spoke of her team's excitement at being back in business after a 10 month closure:
"The Taunton team and our volunteers have all been working hard to ensure the shop will be better than ever and look forward to welcoming our wonderful customers once again.
We've have a fabulous range of fashions and bric-a-brac to suit all tastes. Whether you're a budding fashionista or just love finding hidden gems, with great donations from this community, our new look shop is the perfect place for canny shoppers to get catwalk looks without breaking the bank.
If you have unwanted items at the back of your cupboards, Scope will always find a good home for every donation. On average, each bag of donated goods raises £20 – that means you could help us raise millions of pounds to support the country's 13 million disabled people and their families.
We are also looking for new volunteers, so if you have a few spare hours a week and would like to become part of our friendly volunteer team, we would love to hear from you."
Mayor of Taunton Deane, Councillor Hazel Prior-Sankey, who officially opened the shop, said:
"To see how hard the local staff and volunteers from this community have worked to re-open Scope in Bridge Street, makes me extremely proud to represent this borough.
Scope carries out incredibly important work supporting disabled people and their families and relies on donations from generous volunteers in the community to do this.
I would encourage anyone who is looking for a bargain or is able to volunteer some time, to visit Taunton shop and help to make a difference to the lives of disabled people."