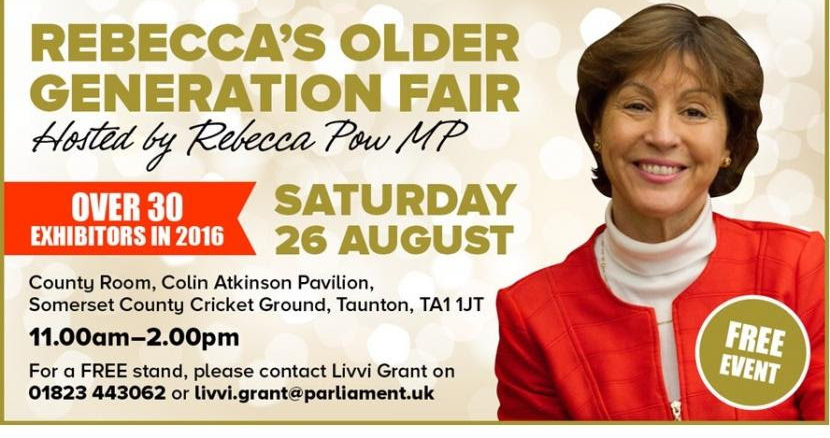 Rebecca Pow, Member of Parliament for Taunton Deane will be holding a special Fair for residents of our older generation across Taunton Deane on Saturday 26th August following the success of her Older Peoples Day Fair last year and is coming onto Apple FM this morning (Wednesday 23rd August) from 8:30am to talk to Jacqui about it.
Rebecca's "Older Generation Fair" is being held to raise awareness of the plethora of activities, hobbies, services, volunteering opportunitiesand much more besides which are available across Taunton Deane as we get older. There will be taster sessions going on throughout the day with a main focus on health and wellbeing.
'We're all getting older' says Rebecca Pow 'and in a bid to help smooth the path and highlight the many opportunities available I am holding this Fair focusing on the older sector (it includes anyone from my age upwards!) I look forward to welcoming as many people as possible to the event where there will be something for everyone.'
Exhibitors include The National Trust, Berry's Coaches, The Royal British Legion, Hestercombe Gardens and many more.
The event is free of charge and is being held between 11am and 2pm at The Somerset County Cricket Ground in Taunton.
For more information, tune in to Breakfast today (Wednesday 23rd) from 8;30am to hear Jacqui talk to Rebecca about it.