Twenty seven drug dealers caught selling heroin and cocaine on the streets of Somerset have been jailed for a combined total of 72 years and five months.
A series of dawn raids were carried out in July in Bridgwater, Glastonbury and Taunton following a four month investigation into the supply of Class A drugs in the towns.
Officers from Avon and Somerset Neighbourhood Policing teams, Investigations, Operational Support and Dog Units executed warrants which also saw weapons and significant amounts of drugs seized.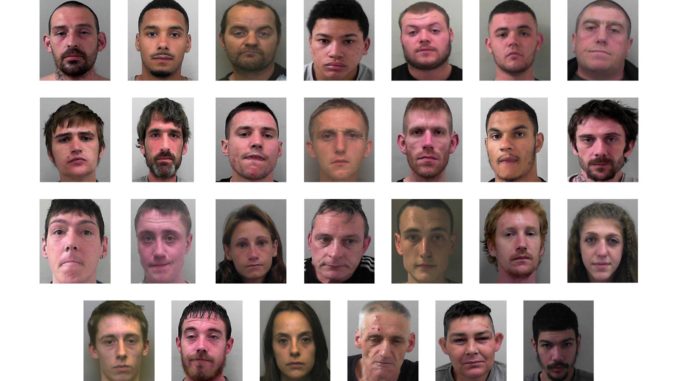 Among those jailed were Aaron Manley Geddes, 24, of Pansy road, Southampton and Callum Sheppard, 22 of The Boulevard, Weston-super-Mare.
Geddes was sentenced to eight years in prison while Sheppard will have to serve five years and four months behind bars.
In addition to those given immediate custodial sentences, 19 other people were given either suspended prison terms or community orders.
Chief Inspector Lisa Simpson said:
"We are committed to tackling drug dealing and all the associated crime and anti-social behaviour that comes with it.
People shouldn't have to live in places where dealers freely sell drugs on the streets, in parks or in areas where children play which is what was happening in Bridgwater, Glastonbury and Taunton.
We always listen to the concerns of our communities but it can take us some time to develop the intelligence we receive and people shouldn't assume that because they don't see immediate results that it isn't being acted upon.
The complex investigation which has resulted in these sentences is proof of this and has shown that we in Avon and Somerset are in no way a soft touch on drugs.
We are committed to taking dealers off the streets but more importantly we are committed to protecting vulnerable people who are exploited due to debt, addiction, mental health problems or other issues that make them an easy target.
Some of these dealers targeted some of the most vulnerable people in our communities – using their home as a base, or for transporting drugs.
We won't tolerate this and are working hard to prevent it but we need the public's help to do this.
We want to know about anyone suspected to be housing drug dealers or allowing the supply of drugs from their premises.
We also want to hear from anyone who is worried about friends, neighbours or relatives they feel might be vulnerable to drug dealers due to dependency or debt."
To report suspected drug crime or alert police to someone you think might be vulnerable, you can either contact Avon and Somerset Police by visiting www.avonandsomerset.police.uk or by calling 101. Alternatively you can contact the independent charity Crimestoppers on 0800 555 111.