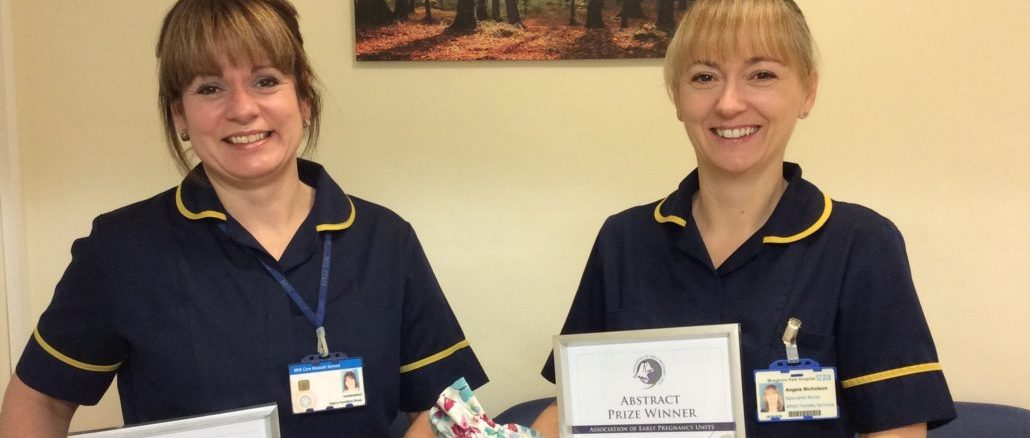 Specialist nurses from Musgrove's Early Pregnancy Assessment Clinic (EPAC) have won two awards at a conference for an innovative idea aimed at supporting women through early miscarriages.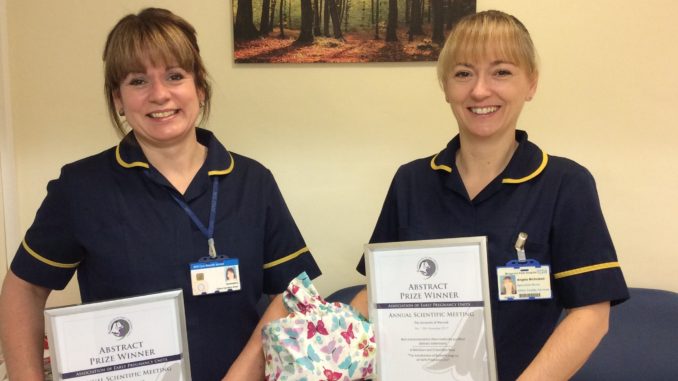 Angela Nicholson and Debbie Hamilton-Rose gave a presentation on Butterfly Bags at the annual Association of Early Pregnancy Unit's Scientific Conference.
The bags were launched at Musgrove earlier this year, and contain practical items to help women who miscarry at home, plus a little keepsake.
They were developed with the support of Keiley Tuck, Musgrove's bereavement midwife, following a study day held by Bridgwater-based baby loss support charity Towards Tomorrow Together where women expressed they would have benefited from more practical support for their miscarriage at home.
And now other hospitals are looking to Musgrove to help implement something similar.
Angela and Debbie said:
"We've had a really positive response to the Butterfly Bags since we launched them around six months ago.
We decided to submit an abstract to give a presentation on the bags at the conference and we were really thrilled to have been picked.
Immediately after we spoke, we had so many people coming up to us wanting to know more.
That means so much and we're really glad that it could potentially help even more women."
Angela and Debbie's presentation saw them win the best Oral Presentation for Service Development and the best Non-Medical Oral Presentation at the conference in Warwick on 9 and 10 November.
The EPAC team sees women who are in their early stages of pregnancy – between six and 16 weeks – who might be experiencing symptoms of abdominal pains.
Angela added:
"If a woman is showing signs that she will miscarry then we give them the option to be able to do so at home with the Butterfly Bags.
They're handmade and the items are currently funded through the Rowan Suite but we would like to be able to get to a point where we can pay for them ourselves.
Not everyone wants to take one, and we offer them very sensitively.
To be able to give women a choice to miscarriage at home is really important and the feedback we've had from those who have taken them has been very positive."
Debbie added:
"We've also had lots of support and donations and we'd like to say thank you for these.
Everyone has been touched by baby loss, either themselves or through someone they know.
It's really touching they want to do something to say thank you and help others.
Thank you to Keiley because we wouldn't have been able to do this without her and to Hadi Haerizadeh our consultant."