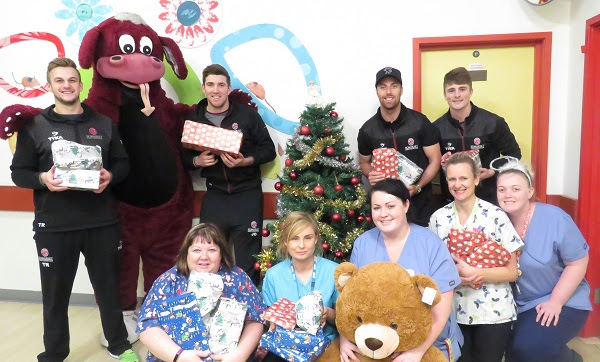 Some of Somerset County Cricket Club's First XI squad made the short trip to Musgrove Park Hospital this week to spread a little festive cheer.
Tom Abell, Jack Leach, Jamie Overton and Tim Rouse were joined by Stumpy the mascot as they took part in the Club's annual visit to the children's wards. The players were taken around the wards where they met with all the children and their parents and gave out Christmas presents to everyone.
Following the visit Tom Abell said: "It's really important that we continue to do things like this, especially at this time of year. It's the very least that we can do as players and a Club.
"To be able to put a smile on children's faces when they are in hospital is absolutely priceless and Stumpy certainly did that today! The children really took to him which was great to see and we met some real characters here tonight.
"It's never good when children aren't very well, especially when they can't go home to enjoy Christmas with their families so to be able to help in any way we can is so important."
Staff Nurse Maria Thomas was delighted by the reaction that the players and Stumpy received. "The kids really enjoyed it and I'd like to thank you for all the presents," she said. "It's great to see them with smiles on their faces when they are in here over the Christmas period."
Ward Manager Caroline Jackson said: "The kids always love seeing the cricket team and Stumpy has become a big favourite in the ward. They also love getting the presents!"
Emma Speers, whose daughter was in the ward said: "Thanks to the lads today for putting smiles on children's faces at Musgrove. My daughter was in surgery today and after sleeping a good chunk of the afternoon woke up to the lads, presents and a dragon, which put a huge smile on her face!"
Spencer Bishop from the Club's Commercial Department helped to organise the event. "I think that this is one of the most important events that we do each year," he said. "The players are always more than happy to get involved in visits like this and to be able to make a positive difference to people's lives is something really special.
"As a Club we are committed to supporting the local community and visits like this are a huge part of that. I would also like to thank Austins Department Store, Morrisons and Somerset County Sports for donating some of the gifts."