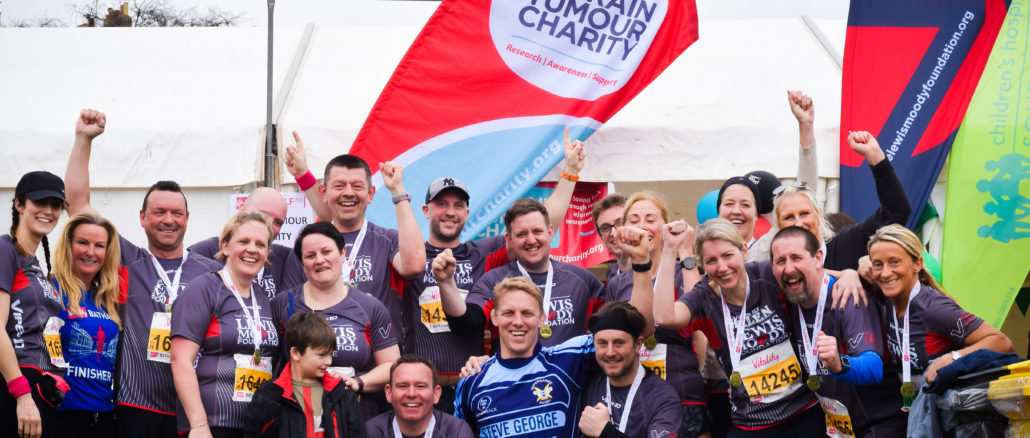 Bradford-Upon-Avon resident and former England Captain Lewis Moody invites you to run with him to raise £12,000 to help fund the HeadSmart brain tumour awareness campaign
Former England Rugby Captain and Founder of The Lewis Moody Foundation, Lewis Moody is once again going to be pounding the streets in this year Bath Half Marathon on the 4 March.
Lewis has taken on this challenge for the last three years to raise money for The Foundation to help in the fight against brain tumours.
Lewis says; "Brain tumours remain the biggest cancer killer of children. When I hear the facts and meet families who are living with the devastating effects of a brain tumour, I know I want to do everything I can to change the horrifying statistics for people in the future.
"We need to ensure parents, teachers, doctors, opticians and all healthcare professionals are aware of the signs and symptoms of brain tumours in children so they can be diagnosed and treated straight away.
"That's what the HeadSmart campaign is aiming to do but it needs constant funding to do this. By raising money through the Bath Half marathon, The Lewis Moody Foundation can continue to fund this life-saving campaign to help children like Daniel. So please join me if you can in this year's race."
Daniel was a typical mischievous three-year-old boy, always happy and a bundle of energy. When he started becoming grumpy and throwing tantrums, mum Rosie put it down to him being a toddler.
As the weeks went on, Daniel's symptoms became worse – he became lethargic, kept bumping into things and was suffering from severe sickness and headaches. It was at this point that Rosie remembered seeing the HeadSmart symptom card on a friends Facebook page.
Following an incorrect diagnosis of hay fever at the doctors, Daniel continued to get worse and on a morning when he could barely move and was vomiting constantly, Rosie and Dad Colin took him to A&E. Daniel had a CAT scan and was rushed straight to a children's hospital.
After a three-hour operation and an MRI scan, the consultant confirmed the couple's worst fears – Daniel had a brain tumour. The next morning, Daniel underwent a successful eight-hour operation, to remove the whole tumour. He spent four days in intensive care and was back home just 10 days after his diagnosis.
Daniels mum Rosie said "That tiny card saved my little boy's life. We feel so blessed he's healthy and happy."
If you would like to join Lewis, please visit https://www.eventbrite.co.uk/e/vitality-bath-half-marathon-2018-tickets-35398472785 to sign up or email info@thelewismoodyfoundation.org to find out more.
Deadline is Friday 19 January.
Read more on Daniel's story: http://bit.ly/2iqRflN
Former England rugby captain and 2003 Rugby World Cup winner, Lewis Moody MBE has won 71 caps during an international career spanning over a decade. Since retiring through injury in 2012, Lewis has launched his own charitable foundation, which supports families affected by the devastating diagnosis of a brain tumour, as well as funding research via The Brain Tumour Charity.
Lewis also coaches the next generation of rugby talent with his Maddog sports coaching company. Lewis takes on many personal challenges each year to raise money for The Lewis Moody Foundation.
The Lewis Moody Foundation collaborates with The Brain Tumour Charity to fund the award winning HeadSmart campaign to help make thousands of parents, doctors, opticians and healthcare professional across the UK brain tumour aware.
Find out more: https://www.thelewismoodyfoundation.org