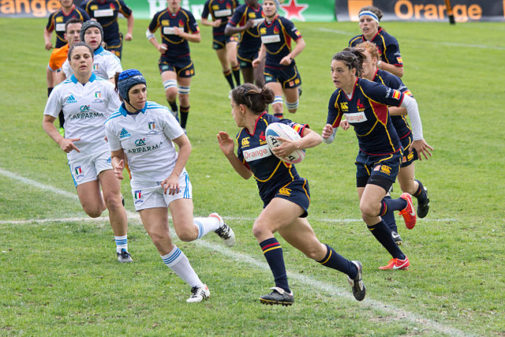 Women in East Taunton are being given the chance to try their hands – and feet – at a sport that has been traditionally seen as a man's world.
Women's rugby has seen its profile rise dramatically in recent years – thanks to more opportunities and to the hugely successful women's national team.
Now women in the least privileged area of Taunton are being offered the opportunity to take up the sport to improve their mental and physical fitness.
The project, being launched by the East Taunton One Team, is being funded by the Somerset Activity and Sports Partnership (SASP) and includes a year's membership with the only local club that offers women's rugby – North Petherton RFC.
It is hoped that the women taking part will encourage others to try rugby – or another sport – and raise awareness of how women can engage in sport whatever their ability or background. Two players and two coaches from the North Petherton club are sharing their expertise and encouragement.
Cllr Terry Beale, Executive member for housing services, said: "As a keen rugby fan myself, I am delighted to see this project getting off the ground. Women's rugby has seen a huge surge in popularity and that's brilliant.
"I hope the women taking part enjoy the taster sessions, have fun, enjoy being with the other players and see that rugby is by no means the men-only sport that it was so many years ago."
The Pitch Up and Play taster sessions at Taunton Vale Sports Club are running weekly until mid-March. Free transport and lunch are being provided along with childcare, supported by Tops Day Nurseries for pre-school children if needed.
No special equipment is necessary – just comfortable clothing, trainers – and bags of enthusiasm!