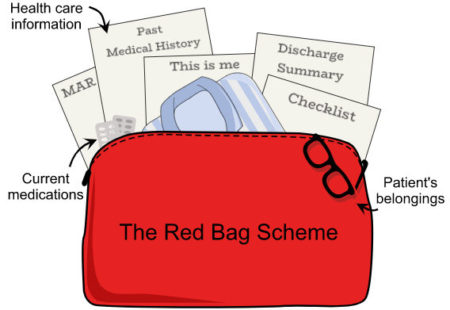 Patients who are admitted to Musgrove Park from local care homes can now store their vital health information in one place throughout their stay in hospital.
Care home staff and hospital clinicians have worked together to develop an initiative where an easy to spot red bag is kept with the patient until they return home.
The bag includes vital healthcare information, which anyone involved in the patient's care can easily access.
It contains a list of the person's likes and dislikes, as well as their normal routines and hobbies. Other personal items such as hearing aids, dentures, and glasses are also kept in the bag, and are safely returned home with the patient when they leave hospital.
At the end of their stay, the bag will contain a discharge summary and medications so staff at the care home know what treatment they have had, and any post-discharge care that they need to be aware of.
Julia Hogg, associate director of nursing at Musgrove Park Hospital, said: "We know it can be difficult and sometimes confusing for patients who are taken to hospital from care homes and we hope that this initiative will make a positive difference to their experience here.
"The scheme will help our nurses, doctors and therapies know more about the person they are caring for, so they can make sure care is more personal to the individual. This is particularly important if the patient has short term confusion or longer term dementia.
"It might be that the patient has a passion for playing skittles in the local pub so it gives clinicians a familiar subject to talk about to help put them at ease. Or they may like their cup of tea made in a certain way.
"We will be monitoring the impact of the red bag scheme as we predict it could significantly improve ambulance handover and A&E assessment times, as well as helping to reduce avoidable hospital admissions."
The scheme is being trialled at three care homes – Lavender Court and Hamilton Park in Taunton and Oak Trees in Bridgwater.
If the trial proves successful it could be introduced across all care homes in Somerset.