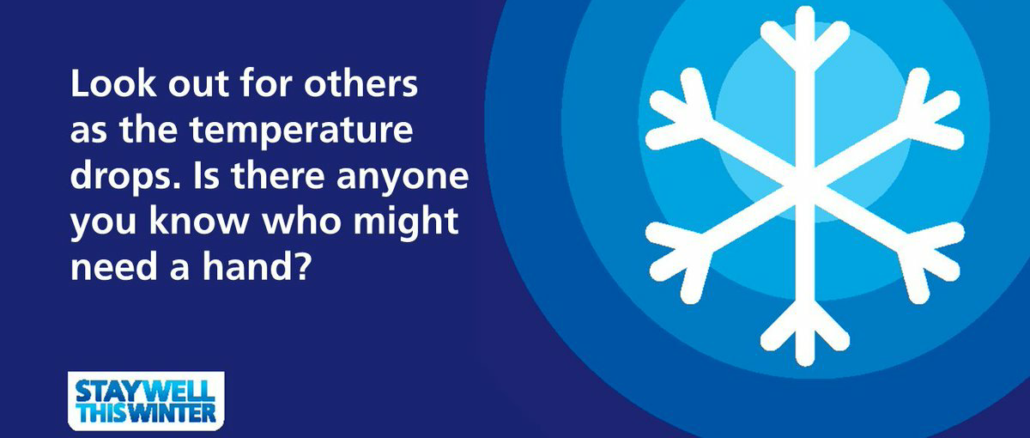 Weekend cold weather could be health risk for those with asthma and COPD
 Somerset's GPs are reminding people caring for frail elderly relatives or people living with asthma or chronic lung disease to keep warm and well this weekend.
The advice comes ahead of a Met Office Yellow Weather Warning affecting much of England over the weekend (particularly Somerset and the West of England on Sunday 18 March). Temperatures are predicted to fall significantly with the risk of snow.
This winter, both Musgrove Park Hospital in Taunton and Yeovil District Hospital have seen exceptionally high numbers of frail elderly patients needing to be admitted to hospital after experiencing heart and breathing difficulties, often aggravated by long-term conditions like chronic obstructive pulmonary disease (COPD) and seasonal cold and flu-like infections. 
Dr Ed Ford, a GP and Chairman of Somerset Clinical Commissioning Group said:
"If you or a relative are vulnerable to asthma and long-term breathing problems please keep warm and keep well. Family doctors, our district hospitals and community services are already seeing very high numbers of people become ill and being admitted to hospital.  If you have asthma or long-term health problems please take some sensible precautions, like staying indoors on the coldest days, keeping rooms heated to at least 18 degrees centigrade, drinking plenty of warm drinks and having some over-the -counter cold or flu remedies in the home. Friends and neighbours can help by checking on the elderly and vulnerable and offering to collect food from a local shop." 
Follow these tips to keep you and your family warm and well at home:
•   if you're not very mobile, are 65 or over, or have a health condition, such as heart or
lung disease, heat your home to at least 18C (65F) 
 •   keep your bedroom at 18C all night if you can – and keep the bedroom window closed
 •   during the day you may prefer your living room to be slightly warmer than 18C
If you start to feel unwell, even if it's a cough or cold, don't wait until it gets more serious. Seek advice from your pharmacist. 
•   wear several layers of clothes rather than one chunky layer – clothes made from
cotton, wool or fleecy fibres help to maintain body heat
•   use a hot water bottle or electric blanket to keep warm in bed – but don't use both at
the same time
•   have at least one hot meal a day – eating regularly helps keep you warm; and make
sure you have hot drinks regularly
•   try not to sit still for more than an hour or so indoors – get up and stretch your legs
•   stay active – even moderate exercise can help keep you warm
•   wrap a scarf loosely around your mouth when outdoors – add a hat and wear shoes
with a good grip, too. If you have a heart or respiratory problem, stay indoors during
very cold weather.
 Look in on vulnerable neighbours and relatives. Check up on older neighbours and relatives, and those with heart or respiratory (breathing) problems, to make sure: 
•   they're safe and well
•   are warm enough, especially at night
•   have stocks of food and medicines so they don't need to go out during very cold weather
If you're concerned that the person may be suffering from hypothermia, telephone NHS 111. 
For advice on how to keep well and keep warm this winter visit the NHS Choices web site:
https://www.nhs.uk/livewell/winterhealth/pages/keepwarmkeepwell.aspx