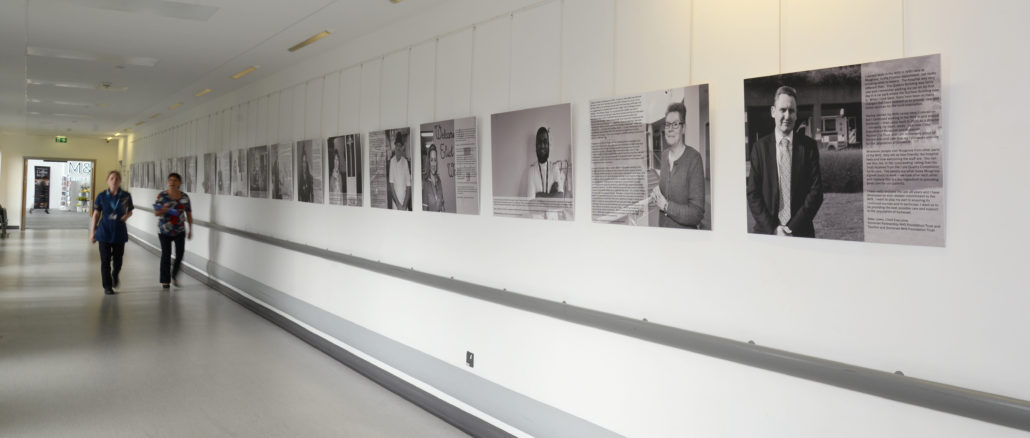 A stunning exhibition of black and white photographs of staff from Musgrove Park Hospital and Somerset Partnership have gone on display at Musgrove.
The exhibition has been created as part of the celebrations for NHS70, as the country prepares to celebrate 70 years of the National Health Service on 5 July.
The exhibition has been created by Art for Life – Musgrove's art and design programme – who wanted to create something unique and memorable to reflect the event.
Lisa Harty, from Art for Life, said: "We wanted to do something in our programme this year to reflect the fact that the NHS turns 70 and to celebrate our wonderful colleagues from both Musgrove and Somerset Partnership.
"The exhibition features photos of staff from many areas across the two organisations – from nurses and doctors to facilities and admin staff, reflecting the rich breadth and diversity we have.
"Alongside the photographs are the stories and views of people of their life working for the NHS and their thoughts on the service as it turns 70.
"What you will find as you look at this exhibition is an extraordinary testament to the dedication and commitment of our staff at both organisations.
"We hope you will enjoy reading their stories and reflections."
Accompanying the photographs and stories is wonderful artwork by West country artist Lynn Muir.
Lynn has created figures specially for this exhibition using driftwood collected close to her studio in Cornwall, each figure holds its own story.
The exhibition will be on display at Musgrove until 25 September and it is hoped that it will also be displayed at some of Somerset Partnership's sites, including community hospitals.
For more information about Art for Life please contact artforlife@tst.nhs.uk or visit www.artforlife.nhs.uk