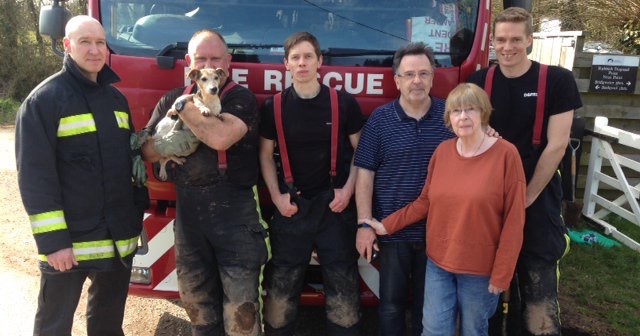 A Jack Russell Terrier, believed to have been stuck within a canal bank for days, was rescued by Taunton firefighters this afternoon (Sunday).
Firefighters came to the rescue following a call from concerned passers-by, Mr and Mrs Tracey, who could hear a dog in distress somewhere underground along the Bridgwater and Taunton canal towpath.
Initially a local officer was mobilised to Bridgwater and Taunton Canal at around 14:02 to assess the situation and shortly after arriving requested a fire appliance be mobilised to assist with locating the dog.
A crew from Taunton station attended and made their way on foot to the scene which was approximately 300m north of Maunsel lock.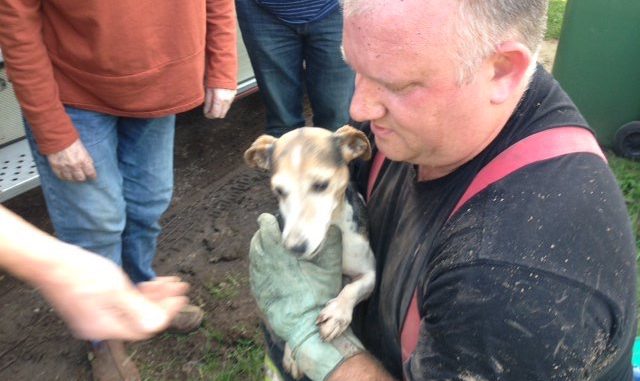 The dog was located within the bank of the canal so crews began digging out the canal bank using small tools.
The Canal and Riverbanks Trust were notified of the work taking place.
At 15:37, crews managed to create a hole big enough to rescue the dog, who was revealed to be a small tan and white Jack Russell terrier.
It is thought he had been stuck for a few days and although he was skinny he was in reasonably good health.
The owner of the dog was not in attendance so an inspector from the RSPCA was requested to attend.
On arrival they were able to trace the owner and found they were local to Taunton so the RSPCA took the dog home and reunited them.