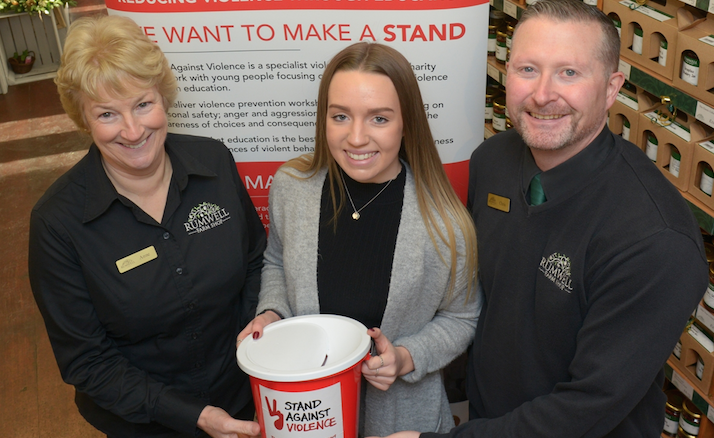 SOMERSET folk keen to test their general knowledge and help raise money for charity can this month (April, 2018) sign up to a quiz night being held at a farm shop in the county.
The Charity Quiz and Supper Evening in aid of Stand Against Violence (SAV), which is based in Taunton and dedicated to reducing violence through education, will take place at Rumwell Farm Shop's cafe on Friday, April 27 at 7pm.
Anne Mitchell, Joint Owner of the farm shop, which is located on the A38 between Taunton and Wellington, explained: "Our Charity Quiz and Supper Evenings are very popular, but we still have some spaces left for the next one on April 27. The evening is the perfect opportunity to get together with friends or family members, maximum eight people per team, and be in with a chance of winning a prize and the glory of taking home our Rumwell Cup.
"The supper will be served from 7pm with hot food choices followed by a choice of desserts. The supper will cost £14.99 for two courses and the price includes a £1 quiz entry fee, which will be given to SAV.
"Also, on the night there will be a raffle with a selection of prizes from our shop, our suppliers and friends. All of the money from the raffle will be donated to the charity. To book your table, please call us on 01823 461599 ext 4."
SAV was set up in 2005 following the murder of 17-year-old Lloyd Fouracre. SAV aims to prevent violence, its long-term consequences and the grief of losing loved ones. The workshops it delivers equip and inform students in an effective manner how to Stand Against Violence.
Adam Fouracre, Chief Executive Officer at Stand Against Violence, said: "It's fantastic that Rumwell Farm Shop is hosting the quiz evening in aid ofSAV. Its support is greatly appreciated.
"With the money raised by Rumwell Farm Shop and its customers in 2018 we can continue to deliver anti-violence workshops, self-defence and vital first aid lessons to young people across England and Wales.
"We'll be there on the night should anyone require any further information about our charity. We hope lots of people get behind the event and join us on the evening."
Rumwell Farm Shop is an independent, family-run, award-winning business owned by the Mitchell family. It was originally a potato store, when David and Anne Mitchell began selling their potatoes and free-range eggs at the gate.
Due to customer demand, the range of products soon increased, and the farm shop grew into the place it is today. David and Anne's sons, James and Jack, are now also involved in the business as well as daughter-in-law Sophie.
Rumwell Farm Shop has a traditional butchery counter selling free range pork and Aberdeen Angus beef reared just four miles away on the family farm. There is also a delicatessen, bakery, jam kitchen, food hall, wine cellar and gift room.
Home grown potatoes are also still available, when in season, as well as everything from fruit, vegetables and groceries to plants, flowers, gifts and cards.
The Rumwell Cafe can seat approximately 80 people. The food prepared in the cafe kitchen is sourced from the farm shop, the Mitchell family farm and regional suppliers.
Families are welcome to the cafe and there is a menu especially for children. The cafe also serves afternoon teas, carvery on a Sunday and is licensed to sell alcoholic beverages.
The Charity Quiz & Supper Evening in aid of SAV will take place at Rumwell Farm Shop on Friday, April 27 from 7pm.
For more information, please call Rumwell Farm Shop, which is located in Rumwell between Taunton and Wellington, on 01823 461599, visitwww.rumwellfarmshop.com, follow the company on Twitter at www.twitter.com/rumwellfarmshop or log on to www.facebook.com/Rumwellfarmshop.