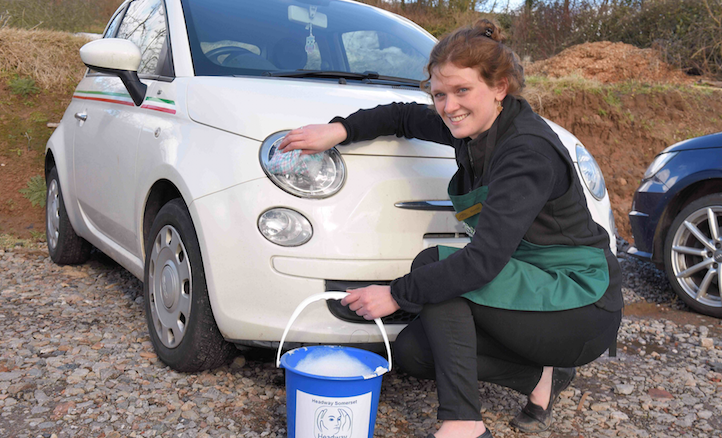 PEOPLE in Somerset are being invited to support an Explorer scout group and Headway Somerset by having their cars washed at a fundraiser being held next month (May, 2018).
Rumwell Farm Shop and the Wellington Explorer Scout Group have teamed up to raise money for the charity and the scout group on Saturday, May 12 from 10am until 4pm.
Anne Mitchell, Joint Owner of the farm shop, which is located on the A38 between Taunton and Wellington, said: "As our car washes were a great success last year raising £675 for local causes we decided to host another two this year.
"Headway Somerset is one of our charities of the year and we're delighted that the Explorer Scouts have also come on board this year for the fundraiser. We hope lots of people take advantage of the car wash."
Headway Somerset provides social and cognitive rehabilitation for adults with brain injury and support and respite for their families through its four Brain Injury Centres based in Bridgwater, Henton, Yeovil & Taunton.
Explorers are young adults between 14 and 18-years-old. They meet together once a week in an Explorer Scout Unit. Explorers can gain a wide range of badges and awards, particularly activity badges. These can range from canoeing and mountain biking to sports and public relations.
Simon Cook, Leader of the Wellington Explorer Scout Group, said: "We're delighted to be able to raise money for a local charity and also for our own activities. Thanks goes to Rumwell Farm Shop for asking us if we would like to be involved.
"We hope lots of people in the area get behind the fundraiser and pop along with their dirty vehicles. The Explorer scouts will be raring to go."
The car wash will be held in the Rumwell Farm Shop car park and will cost £4 per vehicle with £2 going to the Explorer Scouts and £2 to Headway Somerset.
Rumwell Farm Shop is an independent, family-run, award-winning business owned by the Mitchell family. It was originally a potato store, when David and Anne Mitchell began selling their potatoes and free-range eggs at the gate.
Due to customer demand, the range of products soon increased, and the farm shop grew into the place it is today. David and Anne's sons, James and Jack, are now also involved in the business as well as daughter-in-law Sophie.
As well as the Butchery counter, Rumwell Farm Shop also has a delicatessen, bakery, jam kitchen, food hall, wine cellar and gift room.
Home grown potatoes are also still available, when in season, as well as everything from fruit, vegetables and groceries to plants, flowers, gifts and cards.
The Rumwell Cafe can seat approximately 80 people. The food prepared in the cafe kitchen is sourced from the farm shop, the Mitchell family farm and regional suppliers.
Families are welcome to the cafe and there is a menu especially for children. The cafe also serves afternoon teas, carvery on a Sunday and is licensed to sell alcoholic beverages.
The car wash will take place on Saturday, May 12 at Rumwell Farm Shop from 10am until 4pm.
For more information, please call Rumwell Farm Shop, which is located in Rumwell between Taunton and Wellington, on 01823 461599, visit www.rumwellfarmshop.com, follow the company on Twitter at www.twitter.com/rumwellfarmshop or log on towww.facebook.com/Rumwellfarmshop.