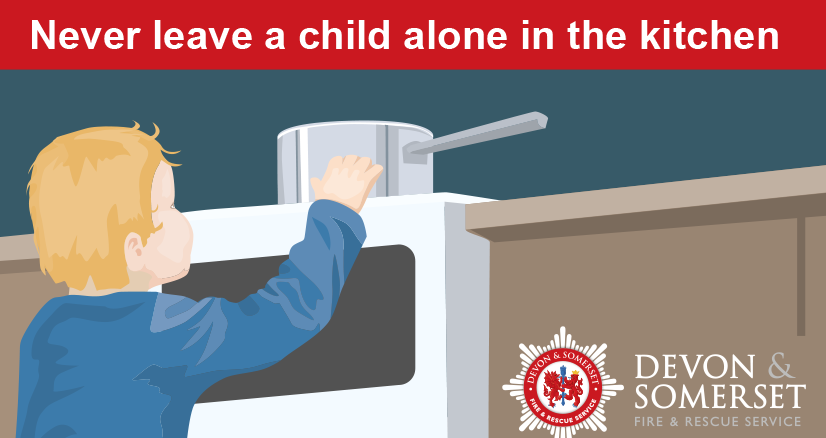 Firefighters from Devon & Somerset Fire & Rescue Service will be offering kitchen fire safety advice to shoppers in Asda stores this Saturday 28th April at Paignton, Torquay and Taunton.
Paignton        09:00am to 12:30pm
Torquay         13:00pm to 17:00pm
Taunton         11:00am – 15:00pm
Look when you cook
Devon & Somerset Fire & Rescue Service will be particularly focusing their fire safety messages on staying safe in the kitchen. This is because 61% of accidental dwelling fires in Devon and Somerset start in the kitchen due to people being distracted while cooking. Over 50% of fire related injuries occur when the kitchen is the room of fire origin. So whatever happens elsewhere in your home, always make sure you have one eye on the stove or microwave to reduce your risk.
Collaboration
These events support the National Fire Chiefs Council's (NFCC's) collaboration with Asda as the supermarket chain was keen to offer fire services the opportunity to help keep people safer.
Stewart Edgar Prevention Lead for the NFCC, said: "It's fantastic that Asda offered UK fire services the opportunity to meet with their customers and offer life-saving advice on fire prevention. We hope this will make sure the people who need this help most get access to it, and that our presence reminds people that fire prevention should be part of everyday life – just like popping to the supermarket."
Look when you cook – our top kitchen fire safety tips
Take care if you need to leave thekitchenwhilst cooking. Take pans off the heat or turn them down to avoid risk.
Double check the hob is off when you've finished cooking.
Keep tea towels and cloths away from the cooker and hob.
Take care if you're wearing loose clothing – this can easily catch fire.
Don't leave children in the kitchen alone when you're cooking.  Keep matches and saucepan handles out of their reach to keep them safe.
Take care with electrics – keep leads and appliances away from water and place grills and toasters away from curtains and kitchen rolls.
Have an escape plan in place.
If a pan catches fire, don't take any risks – Get Out, Stay Out, and Call 999.
Test you smoke alarm
Stay alive and stay safe with a working smoke alarm. This will greatly increase your chances of escaping from a fire unharmed. Without one you and your family are more than twice as likely to die in a fire at home.
Check that a smoke alarm is fitted on each level of your property:
• once a year – change your battery or consider buying a ten-year alarm which will not require frequent battery changes
• regularly check your alarms by pressing the button
• once a year –   vacuum and wipe the smoke alarm casing to ensure dust isn't blocking the sensor chamber (for mains wired alarms, switch off first).
Make the call
Thought about making the call to request free Home Safety advice? The majority of fires we attend in properties resulting in injuries or fatalities involving vulnerable people. Our visits are designed not only to promote general safety but well-being within our communities. Make the call to help us to help you stay safe call free now on 0800 05 02 999.
For any other fire safety advice, contact the Devon & Somerset Fire & Rescue helpline on: 01392 872288 or visit our websitewww.dsfire.gov.uk