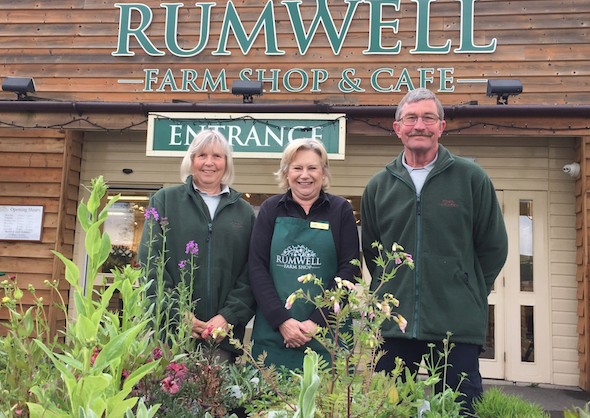 AMATEUR gardeners in Somerset are being invited to a Plant Day at a farm shop in the county this month (May, 2018) for some free advice.
Rumwell Farm Shop is hosting the greenfingered event with its new plant supplier, Ford Nursery, which is based near Oake, on Saturday, May 19 from 10am until 4pm.
Anne Mitchell, Joint Owner of the farm shop, which is located on the A38 between Taunton and Wellington, said: "We're delighted to announce that we have a new local plant supplier. Brother and sister duo, Neil Dickins and Pat Morley, have run the small, family run nursery for 10 years.
"We're inviting green-fingered folk to the shop on Saturday, May 19 to meet Neil during our Plant Day. He will be on hand to discuss any plant queries people may have and offer top tips on plants to suit different spaces. This is also a chance to see and purchase a selection of plants grown in the local area.
"The nursery grows a wide range of perennials, shrubs, herbs and lavenders as well as summer and winter annuals and vegetable plants. We are always keen to support local producers and we are delighted to be able to offer British grown plants that haven't travelled hundreds of miles to get to us. We hope lots of people join us on the day to officially welcome Neil and Pat to our supplier family."
There will also be special offers on a range of plants on the day.
Neil explained: "When we were asked to supply plants for Rumwell Farm Shop we were delighted and jumped at the opportunity. We will be offering a wide range of the latest annuals for baskets and tubs, bedding packs, as well as the tried and tested favourites.
"We grow more than 12,000 perennials from seed, and compliment these with many more grown from plug plants, as well as herbs, lavenders and shrubs and the increasing trend of people growing their own vegetables has seen us steadily increase our range of tried and tested varieties that we offer."
Rumwell Farm Shop is an independent, family-run, award-winning business owned by the Mitchell family. It was originally a potato store, when David and Anne Mitchell began selling their potatoes and free-range eggs at the gate.
Due to customer demand, the range of products soon increased, and the farm shop grew into the place it is today. David and Anne's sons, James and Jack, are now also involved in the business as well as daughter-in-law Sophie.
As well as the Butchery counter, Rumwell Farm Shop also has a delicatessen, bakery, jam kitchen, food hall, wine cellar and gift room.
Home grown potatoes are also still available, when in season, as well as everything from fruit, vegetables and groceries to plants, flowers, gifts and cards.
The Rumwell Cafe can seat approximately 80 people. The food prepared in the cafe kitchen is sourced from the farm shop, the Mitchell family farm and regional suppliers.
Families are welcome to the cafe and there is a menu especially for children. The cafe also serves afternoon teas, carvery on a Sunday and is licensed to sell alcoholic beverages.
The Plant Day will take place on Saturday, May 19 at Rumwell Farm Shop from 10am until 4pm.
For more information, please call Rumwell Farm Shop, which is located in Rumwell between Taunton and Wellington, on 01823 461599, visitwww.rumwellfarmshop.com, follow the company on Twitter at www.twitter.com/rumwellfarmshop or log on to www.facebook.com/Rumwellfarmshop.