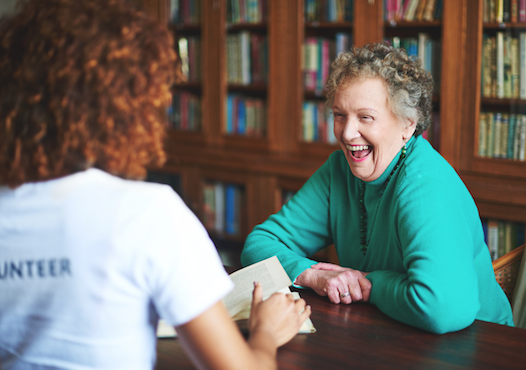 Calling all book lovers!  A popular home library service run by Royal Voluntary Service, the national volunteering organisation, is looking to grow its service for older readers across Somerset.
Somerset Home Library Service brings books to people who can no longer get to a library.  The service is looking for volunteer co-ordinators who love books and reading to liaise with libraries, manage a network of local volunteers to arrange book deliveries to clients and to recruit new volunteers for the service.   
The Home Library Service operates from libraries in Frome, Taunton and Wellington, Bridgwater, Wincanton, Chard, Ilminster, Langport and Somerton, and Yeovil. 
Royal Voluntary Service is also looking for volunteers to choose and deliver books, and to share their love of reading with service users.  Volunteers are a friendly face and regular visitors to older people whose mobility and social interaction are limited.  They provide a useful check on the safety and well-being of the older person too.
Jackie Thompson is a Home Library Service volunteer from Somerton in South Somerset.  She visits Pat (Stevens) who enjoys a good murder story, especially anything by Alexandra McCall Smith, and particularly enjoys listening to audio books, especially in the evenings.  Pat says: "I have lost the sight in one eye so talking books are a lifeline. I really enjoy the books that Jackie brings me." 
Jackie says: "I enjoy visiting Pat and find her feedback on authors invaluable when choosing books for her or using the online ordering service in Somerset libraries."
Kirsty Jenssen, Service Manager for Somerset Home Library Service says: "For older people who enjoy reading or listening to an audio recording but find getting out of the house challenging, this service offers a vital link to the local library.  The service enables older people to carry on doing something they've always enjoyed and helps alleviate feelings of isolation and loneliness.  We want to be able to link even more older people to local libraries which is why we're looking for more volunteer co-ordinators to help us expand the service across Somerset."  
No previous experience is necessary as full training is provided and Royal Voluntary Service will also provide guidance on recruiting volunteers.  In return, volunteer co-ordinators can enjoy developing their skills and experience, being part of a team and creating something of lasting value for their community and the people in it. 
Kirsty Jenssen: "Our volunteers are community heroes that make a genuine difference to the lives of older people.  Working with us to expand Somerset Home Library Service is an exciting challenge for anyone with time to give and energy and enthusiasm to offer. We look forward to welcoming and supporting a host of new volunteer co-ordinators and volunteers to scale up our support for older people."
Previous research for Royal Voluntary Service found that older people who volunteer are happier and healthier than their counterparts who don't. 
Royal Voluntary Service is one of Britain's largest volunteering charities with over 25,000 volunteers supporting thousands of older people each month in hospitals and the community.  The focus is on building confidence, improving well-being and keeping loneliness at bay through an array of social activities and more structured support.  The charity is also one of the largest retailers in the NHS, with its network of cafes and shops providing a valued haven in hospitals.
To find out more about becoming a volunteer co-ordinator or volunteer with Somerset Home Library Service, call Kirsty Jenssen on 07920 250834, email: Kirsty.jenssen@royalvoluntaryservice.org.uk or visit www.royalvoluntaryservice.org.uk