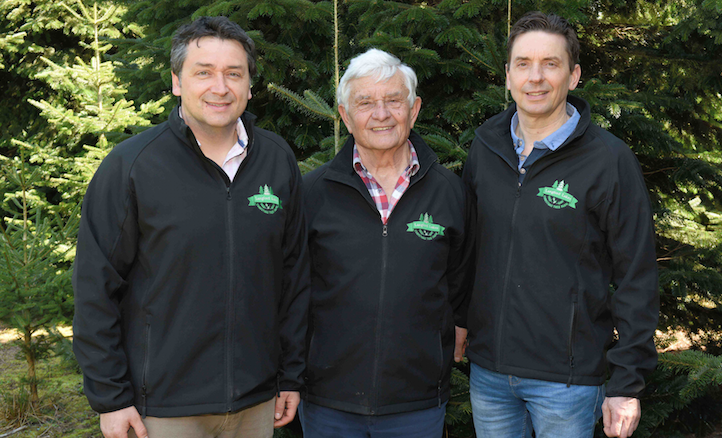 FAMILIES from Somerset are invited to visit a Christmas tree farm in the county as part of Open Farm Sunday.
Langford Lakes Christmas Tree Farm is taking part in the event, which is the farming industry's national open day, on Sunday, June 10 from 11am until 4pm.
Reg Hendy from Langford Lakes Christmas Tree Farm, which is based at Middle Hill Farm in Langford Budville, said: "We're delighted to be taking part and supporting Open Farm Sunday for the second time this year. We are inviting people to come along and take the opportunity to walk our Christmas tree plantations and see the trees mid growth when they are a pale green colour. Visitors will be able to stroll through our woods and bring a picnic to enjoy by our lakes.
"There will be a free activity trail and hands on craft activities for children and we're also hosting a Craft Fayre. About 25 local crafters will be selling their handmade wares during the day.
"Light refreshments including cake, biscuits, juice, tea and coffee will be on offer in return for a donation to our Charity of the Year, Children's Hospice South West and we will also be hosting a raffle on its behalf. Our team will also be on hand during the day to answer any questions people might have about our farm.
"Open Farm Sunday is a fantastic opportunity for everyone, young and old, to discover first-hand what it takes to run our Christmas tree farm."
Open Farm Sunday, managed by LEAF (Linking Environment And Farming), is one of the farming industry's biggest success stories. Since the first Open Farm Sunday in 2006, more than 1,600 farmers across the UK have opened their gates and welcomed 2 million people onto their farm for one Sunday each year.
Reg added: "We're based on 40 acres and a woodland runs the length of the plantations, either side of a stream. This area is home to a multitude of plants and wildlife, in particular rare lesser spotted orchids, deer and occasionally otters.
"People who visit us on Open Farm Sunday will be able to find out all about how we farm Christmas trees and also how we help and attract wildlife to the farm."
Langford Lakes Christmas Tree Farm, which is well-known for its home grown, freshly cut Christmas trees, is a family run farm located close to the nature reserve Langford Heathfield, a mile outside of Langford Budville in Somerset.
The farm is owned and run by Reg and his wife Ann and their two sons, Shaun and Nick. The family has been growing and selling Christmas trees for more than 20 years.
Langford Lakes Christmas Tree Farm will be open for LEAF Open Farm Sunday on June 10 from 11am until 4pm.
For more information about the farm, please visit www.langfordlakes.co.uk, follow the company on Twitter atwww.twitter.com/LangfordLakes or log on to www.facebook.com/LangfordLakesChristmasTreeFarm/.