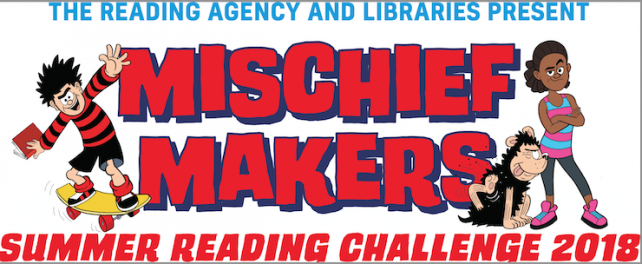 Volunteers are needed to pass along their love of reading to children and young people during this year's 'Mischief Maker's' Summer Reading Challenge taking place across all Somerset Libraries.
Last year over 7,700 Somerset children and young people took part in the Challenge, which encourages them to read at least six books over the summer holiday in return for rewards.
This great take-up was only made possible by the support of the many volunteers who helped make the Challenge happen.
Volunteers need to be aged 13 and over, love reading, and are able to give up some of their spare time over the summer holidays (between 14th July and 8th September) to help out with the Challenge in a local library.
Volunteers help sign up children to the challenge, give out rewards for reading books, talk to children about the books they have read, help them choose their next book, and help run craft activities.
Cllr David Fothergill, Leader of Somerset County Council, said: "During this National Volunteers' Week (1-7 June), volunteering is a great way to enhance your CV, gain valuable work experience, and meet new people. It's also a great way to help the lives of local children by sharing your love of reading and encouraging them to read."
For more information about the volunteer role and to apply online, please visit  http://somersetlibraries.co.uk/volunteer-for-the-summer-reading-challenge-2018/ or drop into your local library for more details.
The closing date for applications is 23rd June. Applicants will then be invited for an informal chat to assess their suitability for the role.