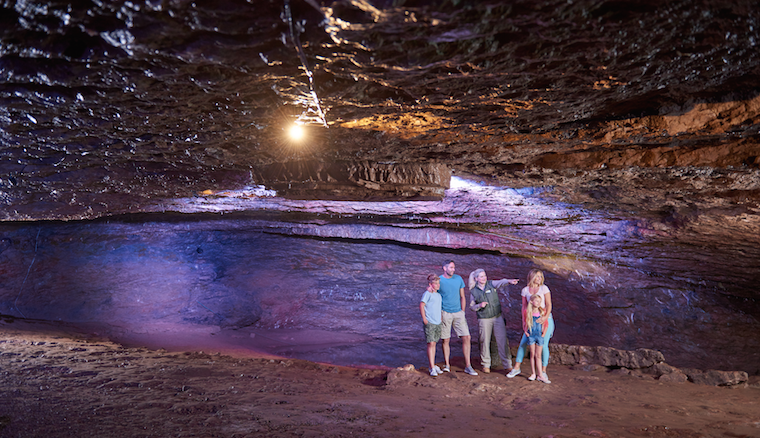 Two of the British Cave Diving team which broke through to a party of youngsters trapped in Tham Luang cave in Thailand had developed their techniques and special equipment during record-breaking exploratory dives at Wookey Hole Caves in Somerset.
Richard Stanton, John Volanthen and Robert Harper led rescue efforts which finally got through to the trapped youth football team on Monday – after they had spent nine-days below ground.
Wookey Hole Caves Director Daniel Medley said: "We all breathed a huge sigh of relief when the news came through that the youngsters had been found. But it is concerning that they may have to remain below ground until the waters have subsided to enable a full recovery expedition to take place."
Daniel Medley said Wookey Hole caves is regarded as the 'birthplace of cave diving' and that the high-tech equipment used during the dive in Thailand had been largely developed and perfected during exploratory dives below the Mendip Hills.
"The first serious efforts to penetrate beyond Chamber 4 were made in 1935, using heavy and cumbersome deep sea diving equipment which was not really suitable for exploring the confined passages.
"The next breakthrough came in 1948 when divers got to Chamber 9 using more streamline oxygen cylinders which had been developed by the world's navies during World War Two."
Chamber 9 became the forward base for operations over the next 30 years.
"A manmade tunnel and further advances in diving technology allowed divers to explore as far as Chamber 25 – before John and Rick reached a record depth of 76m in September 2004."
Daniel Medley went on: "The equipment they used was key to the rescue bid in Thailand and had been developed during the long and extremely dangerous explorations which led to the record dive in 2004. The RS2000 rebreather was modified and streamlined to enable divers to fit through very confined spaces in the Wookey Hole Caves system and reach depths approaching 200m.
"The British team are acknowledged global experts in underwater cave systems and it makes us incredibly proud to think we helped them develop their extraordinary skills here at Wookey Hole Caves.
"The flood conditions in Thailand could never happen here because of our vastly diffierent geological situation. And although our caves are aren't subject to the same Monsoon rain conditions –  the plight of the youngsters still has a particular resonance among staff here at Wookey."
Daniel Medley concluded: "The first part of the rescue operation has been a success – and we can only hope the youngsters will be delivered back to the surface and their loved ones after the rains have subsided."
The boys – described as rake thin when they were discovered on Monday – are aged between 11 to 16 and were on a trip with their football team when flooded blocked all the cave's entrances.