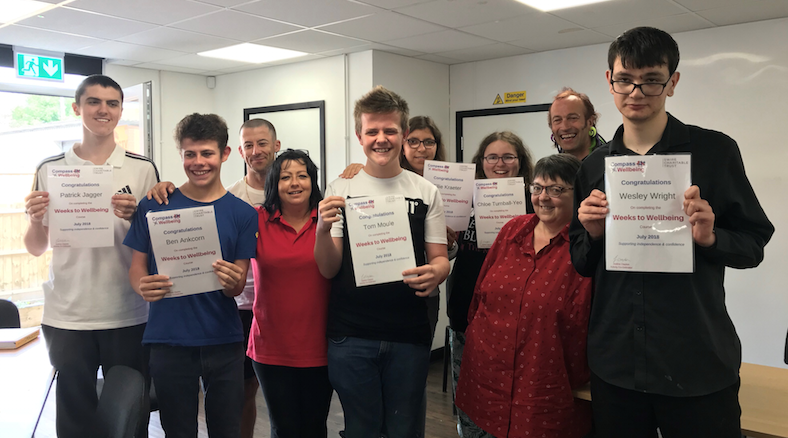 Weeks to Wellbeing was held at Compass Wellbeing on Belvedere Trading Estate in centre of Taunton. This specially designed course was for 18 – 25 year olds that are living with any form of disability, long term health condition, learning disability or mental health issue.  The course consisted of mindfulness, healthy eating, active living, online safety and independent living skills.
Justine Clayton, Activity Coordinator said,
"It was lovely to see these brilliant young people graduate after the first Weeks to Wellbeing course. The feedback both from the students and their parents was fantastic. To see the friendships they made with each other and how their confidence has grown over the 16 weeks made it all worthwhile.  It was a special evening celebrating their achievement with their families.
 The next course starts on the 29th August at Compass Wellbeing. The course is free of charge to attend and is limited to 10 places to make sure students get the most out of the sessions."
Louise Ankcorn, mother of one of the students commented,
"This course has definitely helped our son.  He says it has helped him with regard to keeping calm.  The online safety and confidence building has also really benefited him.  We feel it has been very good for him and he has now become a volunteer at Compass Wellbeing from it too."
If you would like to apply to do the next course starting on August 29th, please contact Justine Clayton on 01823 282823 or emailJustine@compassdisability.org.uk