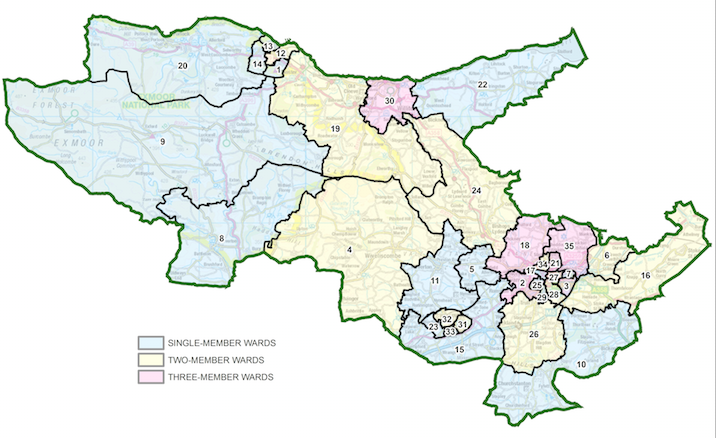 The independent Local Government Boundary Commission for England is asking local people to comment on plans for council ward boundaries across Somerset's newest local authority.
In May, the government confirmed that West Somerset District Council and Taunton Deane Borough Council should merge to form a new local authority. The Commission's consultation now proposes ward boundaries to be used to elect councillors in the new Somerset West and Taunton Council.
The consultation runs until 27 August 2018 and is open to anyone who is interested how they will be represented by the new council.
The Commission proposes that the council should have 59 councillors in total. The Commission has also drawn up seventeen one-councillor wards, twelve two-councillor wards and six three-councillor wards.
The new wards and boundaries will come into effect at the first election for the authority in May 2019.
Professor Colin Mellors, Chair of the Commission, said: "We are publishing proposals for ward boundaries for the new Somerset West and Taunton Council and we are keen to hear what local people think of the recommendations.
"Over the next eight weeks, we are asking people and organisations to tell us if they agree with the wards we have drawn or if not, how they can be improved.
"We will consider all the submissions we receive, whoever they are from and whether your evidence applies to the whole of the new council area or just your part of it.
The full recommendations and detailed interactive maps are available on the Commission's website at consultation.lgbce.org.uk and www.lgbce.org.uk. Hard copies of the Commission's report and maps will also be available to view at council buildings.