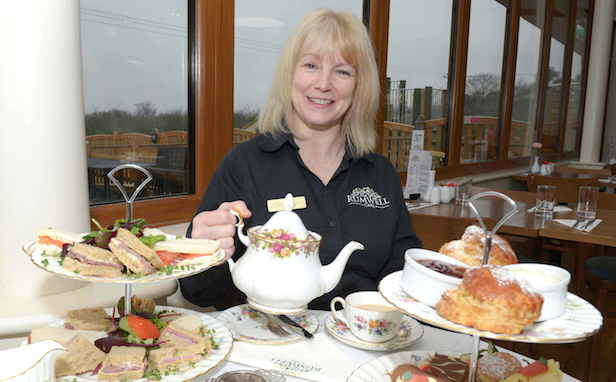 SOMERSET folk who love the quintessentially British tradition of afternoon tea are this month (September, 2018) invited to a farm shop in the county for its bi-annual Afternoon Chari-Tea.
Rumwell Farm Shop is hosting the event on Wednesday, September 26 from 3pm until 5pm to raise money for Headway Somerset, which is one of its charities of the year.
Anne Mitchell, Joint Owner of the farm shop, which is located on the A38 between Taunton and Wellington, said: "We will be decorating the cafe for the special Afternoon Chari-Tea with table cloths, flowers and vintage china to really give the English afternoon tea feel.
"People who attend will be able to tuck into a variety of sandwiches, scones and cakes and plenty of tea. There will also be relaxing background music and we will be hosting a raffle in aid of the Headway Somerset with a range of prizes.
"The afternoon tea will cost £10.95 per person with £1 from each ticket sale going to the charity. Booking for this event is essential, please call 01823 461 599 and select option four or email cafe@rumwellfarmshop.com."
Headway Somerset provides social and cognitive rehabilitation for adults with brain injury and support and respite for their families through its four Brain Injury Centres based in Bridgwater, Henton, Yeovil & Taunton.
Deborah Parsons, Community Fundraiser at Headway Somerset, said: "It's fantastic that Rumwell Farm Shop is hosting another event in aid of Headway. Its support is greatly appreciated and every penny we receive helps us to go that one step further to improving life after brain injury for people in Somerset."
Rumwell Farm Shop is an independent, family-run, award-winning business owned by the Mitchell family. It was originally a potato store, when David and Anne Mitchell began selling their potatoes and free-range eggs at the gate.
Due to customer demand, the range of products soon increased, and the farm shop grew into the place it is today. David and Anne's sons, James and Jack, are now also involved in the business as well as daughter-in-law Sophie.
As well as the Butchery counter, Rumwell Farm Shop also has a delicatessen, bakery, jam kitchen, food hall, wine cellar and gift room.
Home grown potatoes are also still available, when in season, as well as everything from fruit, vegetables and groceries to plants, flowers, gifts and cards.
The Rumwell Cafe can seat approximately 80 people. The food prepared in the cafe kitchen is sourced from the farm shop, the Mitchell family farm and regional suppliers.
Families are welcome to the cafe and there is a menu especially for children. The cafe also serves afternoon teas, carvery on a Sunday and is licensed to sell alcoholic beverages.
The Afternoon Chari-Tea will take place at the Rumwell Cafe on Wednesday, September 26 from 3pm until 5pm. Booking is essential.
For more information, please call Rumwell Farm Shop, which is located in Rumwell between Taunton and Wellington, on 01823 461599, visitwww.rumwellfarmshop.com, follow the company on Twitter at www.twitter.com/rumwellfarmshop or log on to www.facebook.com/Rumwellfarmshop.