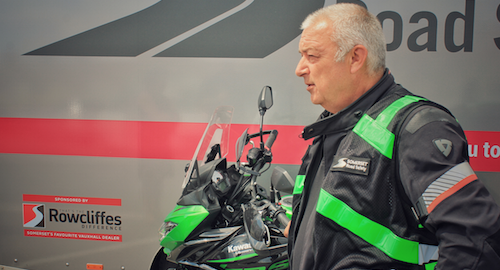 Somerset County Council's motorcycle road safety coordinator has been practising what he preaches by bagging a distinction for safe riding.
Neill Sedgwick, the Road Safety Team's motorcycle road safety coordinator, has just successfully completed the Institute of Advanced Motorist's Masters programme, gaining a distinction, the highest possible award.
The Masters programme is open to all IAM members and designed to help drivers and riders reach the highest standard of civilian driving/riding ability in the country.
To complete the programme Neill had to complete a 90 minute exam made up of both theory questions and an extended ride, which had to be undertaken in an area of the country where he was not familiar with the roads.
Motorcyclists make up just 1 per cent of all road traffic but account for 19 per cent of all road fatalities. Five of the 17 fatalities on the county's roads this year have been motorcyclists. Further training can help a rider to not only spot potential hazards but also provide the skills necessary to deal with the hazard once identified.
Neill, who began working for Somerset Road Safety in 2016 after leaving the Police service, and who is also a qualified IAM examiner, said: "I firmly believe that in order to maintain credibility in my role as both a road safety coordinator and an IAM examiner I need to practice what I preach and ensure I have had the very best of training.
"Any type of training that increases the skill level and aptitude of the rider can only be a good thing and it's not just novice riders that can benefit from training as we all need a skills refresher from time to time; so stay safe and get trained."
Councillor John Woodman, Somerset County Council's Cabinet Member for Highways, said: "I would like to congratulate Neill on his achievement and hope his expertise will be useful in helping to train more riders on how best to stay safe on the road.
"Somerset has some fantastic roads for riding and getting further training will help ensure you stay safe while riding them. If you're interested in further training opportunities you can find out more by visiting the road safety team's website"
Our top tips for rider safety are:
Always ride in a defensive manner.
Never assume that another road user has seen you.
Position yourself in the best place maximise your visibility to other road users.
Check over your shoulder before manoeuvring to ensure you know where other road users are.
Wear a good quality set of safety gear in all weathers; don't ditch them when the sun is out!
Make sure your helmet has a good SHARP safety rating. Find out more about SHARP ratings at: www.sharp.dft.gov.uk
Improve your safety by getting further training.
In many cases collisions involving motorcyclists are caused by other road users failing to see the rider. Our top tips for drivers to help keep bikers safe are as follows:
Always check mirrors/blind spots on your vehicle before manoeuvring, don't be another SMIDSY 'sorry mate I didn't see you'!
Remember bikers will filter between vehicles, a perfectly legal manoeuvre, so check carefully for them if you're stuck in slow moving traffic.
Take a second glance before pulling out at a junction.
Check for bikers before opening your car door and make sure your passengers do the same.
For more information and advice on road safety visit: www.somersetroadsafety.org
For more information on IAM RoadSmart visit: www.iamroadsmart.com