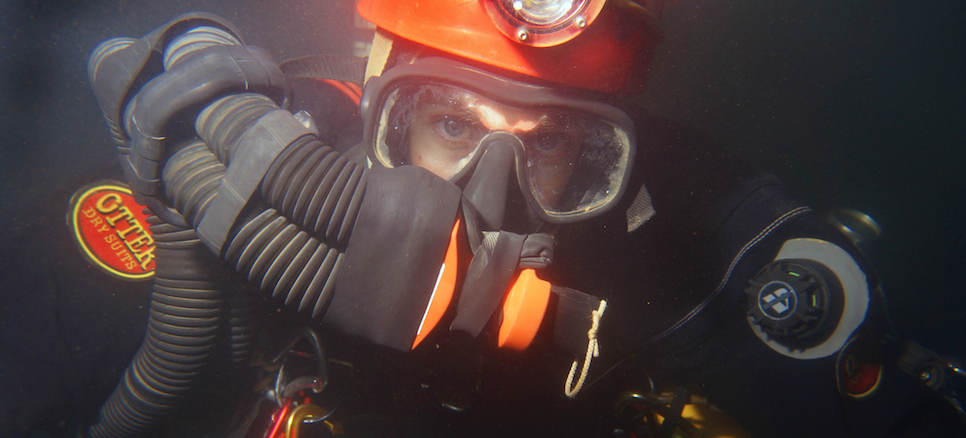 After playing a key role in the rescue of the schoolboys trapped in the Tham Luang cave in Thailand earlier this year you might have imagined Chris Jewell would have been content to sit out the summer beside a swimming pool.  
 Not a bit of it.  
 The cave diver was back at Wookey Hole Caves in Somerset this week – exploring the end 'sump' of the limestone labyrinth to a depth of 70m.  
The deepest exploration – undertaken by Thai cave rescue colleagues Rick Stanton and John Volanthen – reached depths of 90m before the sump became blocked with gravel and boulders.   
Chris Jewell said: "After a summer of several missed chances I finally managed a dive in the end sump of Wookey Hole Caves.   
"Following in the footsteps (fin strokes) of Rick and John, I made it to the first boulder choke at 70m."  
Chris has loaded hair-raising film of his latest dive on to the Wookey Hole Caves facebook page.  
Said Chris: "I am hoping to be able to progress to 90m at some point. But it's not an easy journey.  It's partially blocked at 65m where you see me digging in the gravel on the video. Then again at 70m where it's necessary to wriggle through a small gap in the rocks.  
"There is no way to know how far Wookey will go, though the maximum depth depends on the depth of the limestone in this area. My best guess would be around 100-110m." 
But Chris doesn't rule out the prospect of exciting new cave structures beyond the gravel and rock blockage at 90m.  
"The water from Wookey Hole flows from neighbouring Swildons Hole and where water can travel – so can people."  
Chis Jewell, who lives in Cheddar, said exploratory dives at Wookey Hole Caves had played a huge part in the Thailand cave rescue.  
"It's arguably the premier cave diving site in the UK. There is still potential for further exploration here. The limit of underwater exploration represents the most challenging type of diving."   
The rescue dives in Thailand – which achieved media coverage across the globe – almost ended in disaster for the 35-year-old.  
Guiding the second-to-last boy, who wore a full-face breathing mask, through the pitch-black tunnels, Chris lost his grip on the "dive line" he was using to navigate and spent four horrific minutes adrift in the murky water.  
He eventually grabbed hold of an electric cable and followed it back into a chamber he had already passed through.  
The boys were finally rescued after spending nine days below ground.  
Wookey Hole Caves Director Daniel Medley said: "The footage from Chris Jewell's latest dive through the sump deep below the Mendips gives some idea of the challenges Chris and the team overcame in Thailand.  
"The equipment and techniques they used was key to the rescue bid and was developed during lengthy explorations like this one.  
"The British team are acknowledged global experts in underwater cave systems and it makes us incredibly proud to think we helped them develop their extraordinary skills here at Wookey Hole Caves."  
You can see the video on Wookey Hole Cave's facebook page or at https://youtu.be/auVO4ejEcic