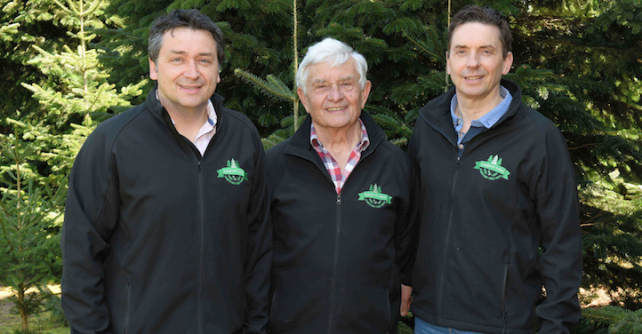 SOMERSET folk are being asked to nominate a person from the community to help officially declare a shop near Wellington that's dedicated to all things Christmassy open.
Langford Lakes Christmas Tree Farm is looking for nominations of people who are community heroes to help it officially open its Christmas shop on Saturday, November 17 at 10am.
Reg Hendy from Langford Lakes Christmas Tree Farm, which is based at Middle Hill Farm in Langford Budville, said: "We are looking for nominations for someone who does a lot for charity, who has overcome an illness or personal difficulty, who has inspired others or who works in a caring role. We would like to invite them along to our Christmas tree farm to cut the ribbon to official open our festive shop.
"We will also give the chosen VIP a free Christmas tree so at a later date nearer to Christmas they can pop back to the plantation to choose their own tree. People can make their nominations via email to info@langfordlakes.co.uk and should give details of who they wish to nominate and why.
"All emails must include clear contact details of the nominators with their address and telephone number. The winner will be picked at random and by being the nominator or nominee they have agreed to take part in publicity."
The closing date for nominations is Friday, October 26.
Reg added: "Once again, this year, we're hoping to collect as much money as possible for CHSW from the sale of mince pies and teas and coffees, aided by local volunteers for the charity, from our launch event through to our last day of trading before Christmas on December 23. Last year we raised £2,955 for the organisation."
CHSW is currently the only provider of specialist hospice care for children in the region. It offers much needed support for youngsters with a life-limiting or life-threatening condition and their families at its three hospices: Charlton Farm in North Somerset, Little Bridge House in North Devon and Little Harbour in Cornwall.
Reg continued: "We would like to invite everyone to this special festive season launch event on Saturday, November 17. The fun starts at 10am with an official ribbon-cutting event. Bring the family and enjoy the refreshments, while also helping raise invaluable funds for this very worthy charity.
"We offer a large selection of Christmas decorations to suit a range of festive themes from decorations that sparkle to Nordic and retro items. We also stock fresh, handmade Christmas wreaths. Come along to get some new decorations for your home and see our displays and then pick up your fresh tree in early December."
Langford Lakes Christmas Tree Farm, which is well-known for its home grown, freshly cut Christmas trees, is a family run 40-acre farm that is located close to the nature reserve Langford Heathfield, a mile outside of Langford Budville in Somerset.
It is a family-run farm, owned and run by Reg and his wife Ann and their two sons, Shaun and Nick. The family has been growing and selling Christmas trees for more than 20 years.
Langford Lakes Christmas Tree Farm is open every day from Saturday, November 17 until Sunday, December 23, 2018.
For further details about Langford Lakes Christmas Tree Farm, which is based at Middle Hill Farm in Langford Budville near Wellington, please call 01823 400476, visit www.langfordlakes.co.uk, follow the company on Twitter atwww.twitter.com/LangfordLakes or log on to www.facebook.com/LangfordLakesChristmasTreeFarm/.