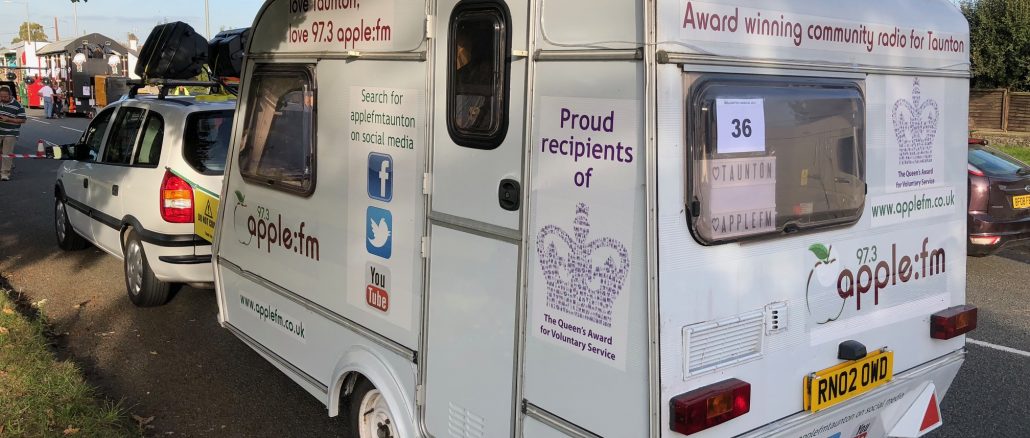 The South Somerset Federation Carnivals season started on Saturday (29 Sep) with Wellington Carnival. Starting at 7.30pm from Rockwell Green the annual illuminated procession began winding its way through the town. The carnival route is just under two miles long and ended at Priory near King's Church. Over 70 entries took part and Apple FM were delighted to return to the line-up after a four-year break.
The Wellington Carnival Results 2018:
Feature
1st Harlequins The Greatest Shoe
Tableau
1st Gemini P. T Barnum
Comic
1st One plus One Afro Circus
2nd Nunsford Nutters Battle of Portaloo
3rd Poppe Inne Itsy Bitsy
Youth
1st Juniors Reloaded Monsterz Cruize
Open
1st Mike Daniels PC M1KE DIWALI
2nd ZEM Festival of Light
3rd Generations Greatest Show on Earth
Adult walking
1st Spirit CC Can Can Can
2nd Judy Williams Shades of Autumn
3rd Phillip Hutter Olaf
Juvenile Walking
1st Nancy Stephenson Heart Princess
2nd Kai Newberry Little Chief
3rd Lorna Stephenson Candy Sweetness
Walking Pairs
1st Tizzys CC Just Another Carnival Entry
Walking Group
1st Wellington Pantomime Cinderella 2019
2nd Torres Vedras Carnival Flowers
3rd 1st Wellington Scouts Battle of Waterloo
Open
1st Xtreme Twisted Circus
2nd A&A Skullduggery II
3rd Wellington & Taunton Young Farmers Team Dirty Dairy
Trade
Oake Manor
Majorettes
1st Ilminster
Joint 2nd – Merriott Majorettes & Les Bâtons de l'Estuaire
Joint 3rd Lyme Regis Majorettes & Chard Evolution Majorettes
School
Beech Grove
Best Costume
Gemini
Best Children's
Juniors Reloaded
Best Make Up
One plus One
Best Tractor Driver
Harlequin
Best International Walkers
Torres Vedras Carnival Club
Best International Performance
Les Bâtons de l'Estuaire
Best International Majorettes
Les Rochal Twirl
Click play below to see highlights from this years procession.