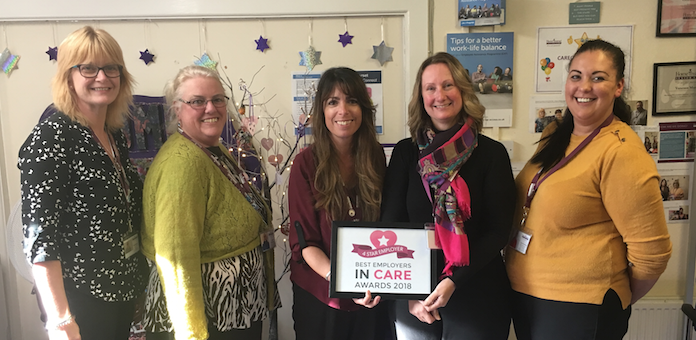 Home Instead Senior Care, a company specialising in care at home for older people in Taunton & West Somerset, has been honoured with a Best Employer in Care Award.
The accolade of 4 Star Employer was awarded by WorkBuzz (formerly Smith + Henderson), an independent company which conducted surveys with Home Instead's customers and employees.
In response to the independent survey, one caregiver employed by Home Instead Taunton & West Somerset said, "I love my job, the people I work with are amazing and I always look forward to getting up and making a positive difference to my client's lives."
Home Instead's caregivers are matched with clients that share their interests, with the visits lasting for a minimum of one hour. As a result of this unique, person centred approach, clients receive an excellent standard of care and employees develop high levels of job satisfaction.
Steven Frost, CEO of WorkBuzz (formerly Smith + Henderson), the awards organisers said, "We would like to congratulate Home Instead Senior Care Taunton & West Somerset on being a 4 Star Employer. What makes this award extra special is that it's based on feedback from thousands of their caregivers and is only awarded to the top 10% of companies that enter the Best Employers in Care Awards.
"The care sector too often receives negative publicity – in contrast Home Instead Senior Care has a strong culture whereby caregivers have the right support and training; are well led and have a strong commitment to deliver outstanding care."
Commenting on the recognition her company has received, Vanessa Munson, co-owner of Home Instead Senior Care Taunton & West Somerset, said: "We are incredibly proud to have achieved a Best Employer in Care Award.
"It means so much because it was awarded as a result of feedback from our employees. Person centred home care is our business and this acknowledgement proves that it works, not only for our clients, but for our caregivers too."
To find out more about the work that Home Instead Senior Care do in your area, or for details of current caregiver vacancies, call 01823 211121 or visit: https://www.homeinstead.co.uk/tauntonwestsomerset.