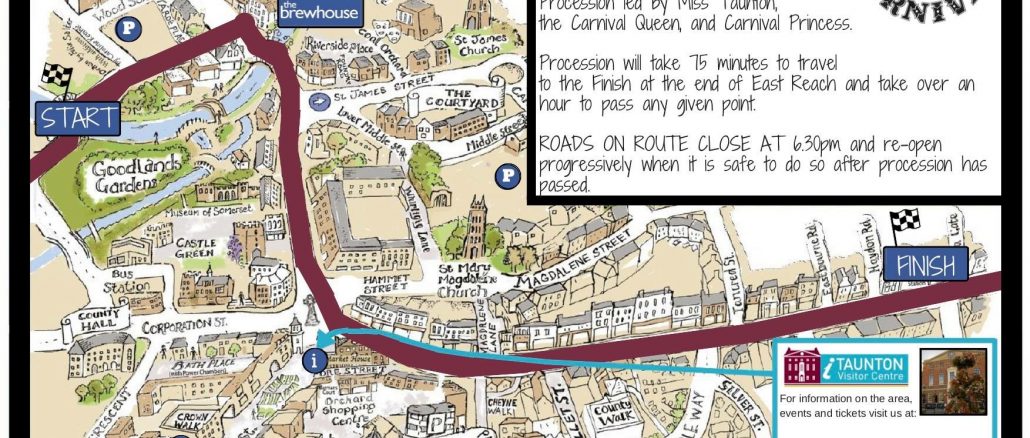 This Saturday (20th Oct) will see the 53rd annual illuminated Taunton Carnival.
The route will start at Tangier Way bridge and will move through North Street, East Street and East Reach, ending at the junction to Wordsworth Drive. With over sixty entries, it is predicted the carnival will last around 75 minutes for spectators. The procession will be lead by the Carnival Queen (Lucy Wheeler) and Carnival Princess (Mya Goodman). Apple FM are also excited to be in the procession once again.
Donations: The carnival is a free event in principle but please give generously to the collection vehicles. This will ensure the carnivals future and will also help them raise money for the carnival committee's chosen charity this year which is Love Musgrove. If all spectators of the carnival gives just a pound the carnival will easily achieve their target. You can also donate by clicking here. You can also help the carnival by purchasing their official merchandise from street sellers on the night.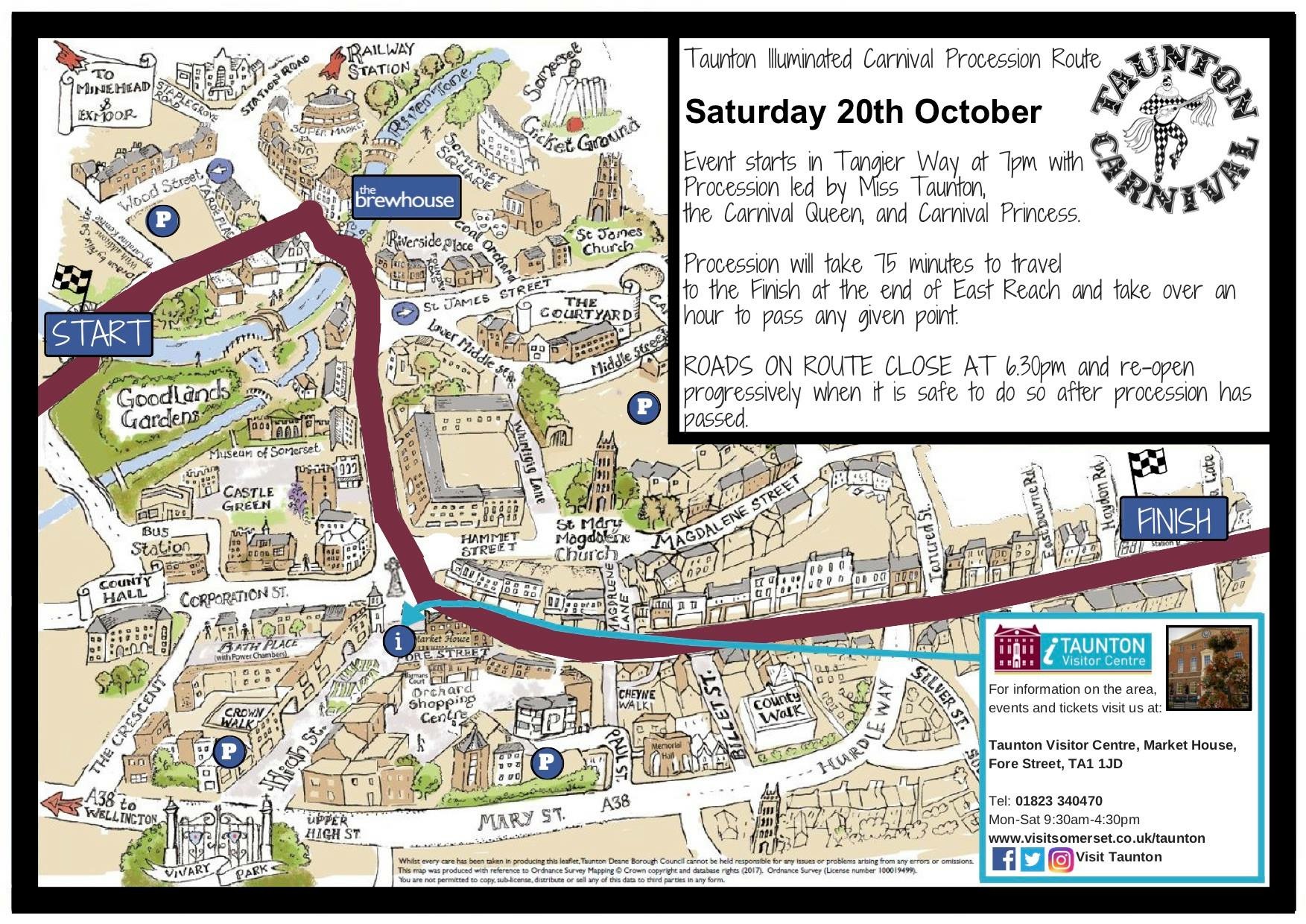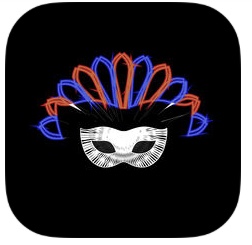 This year's carnival circuit is even more exciting for spectators thanks to a new app where you can vote for your favourite entries. The CarniApp can be downloaded for IOS and Android devices.
Voting will begin at 7pm on Saturday 20th
PARKING AND ROAD INFORMATION:
There will be ample parking in Taunton's car parks which are free after 6pm.
At 2pm – Tangier Way down to the junction with Wood Street will be closed to allow all the carnival clubs to assemble and get prepared. Castle Street will be closed to traffic between the entrance to Tangier and Castle Street car parks. (Motorists can still access Tesco and Lidl but Enfield car park will be closed all day).
At 6.30pm – The town centre will be closed so the event's route can be cleared of traffic before the crowds move in to line the pavements. These roads include North Street, Fore Street and East Reach.
No vehicles will be able to leave Wood Street, Yarde Place, Haydon Road or Victoria Gate on to the route whilst the procession is taking place, between 6.30pm and around 9pm.
The roads will re-open soon after the event. (Traffic will be directed away from the centre and to keep a clear access to Musgrove Park Hospital).
Taunton Carnival 2018 Order of Procession:
No Name of Club / Entrant Title of Entry Class.
1 Quality Carnival Merchandise Quality Carnival Merchandise.
2 Ilminster Majorettes Ilminster Majorettes 12.
3 Ringwood PA Ringwood PA.
4 Miss Taunton & the Carnival Princess Miss Taunton & Princess Support Vehicle.
5 Miss Taunton & the Carnival Princess Miss Taunton & Princess Float.
6 Make Performing Arts Flying to Neverland 10.
7 Collection Vehicle Taunton Scouts.
8 Oake Manor Golf Club Oake Manor 11.
9 Generations CC Greatest Show on Earth 5.
10 Family's r us Unicorns Dream 9.
11 The Breeze The Breeze 11.
12 Kai Newbery Little Chief 7.
13 Wookey Hole Winter Wonderland at Wookey Hole 11.
14 One + One CC Afro Circus 3.
15 Fantasy CC Way out West 5.
16 Crealy Adventure Park & Resort Crealy Adventure Park & Resort 11.
17 Friends CC Blooms'n'Butterflies 8.
18 Bounce and Burn Bounce and Burn 14.
19 Wellington Carnival Queen & Princesses Wellington Carnival Queen & Princesses.
20 Wellington Majorettes Wellington Majorettes 12.
21 Mike Daniells, The Academy of Carnival PC M1KE 5.
22 Taunton Thespians Oh What A Lovely War 14.
23 A &A CC Skullduggery II 10.
24 The Parker School of Dance & Gymnastics Ocean 9.
25 Juniors Reloaded Monsterz Cruize 4.
26 South Molton Mobility Aclands Mobows 5.
27 Collection Vehicle Bridgwater Guy Fawkes CC.
28 Bridgwater Guy Fawkes CC Bridgwater Guy Fawkes 14.
29 Philip Hutter Mickey Mouse 6.
30 The Octagon Theatre Aladdin 11.
31 New Direction Majorettes New Direction Majorettes 12.
32 Tacchi Morris Arts Centre Cinderella 11.
33 RJ CC DOG'N'IT 5.
34 Gemini CC P.T Barnum 2.
35 Berry's Coaches Berry's Coaches 11.
36 Roger Muspratt Hamilton Bauta Vogue 6.
37 Xtreme CC Twisted Circus 10.
38 Apple FM CIC Apple FM 14.
39 Collection Vehicle C & D South West.
40 MGJ Classics Classic Car 14.
41 MGJ Classics Classic Car 14.
42 MGJ Classics Classic Car 14.
43 MGJ Classics Classic Car 14.
44 Wellington Pantomine Group Cinderella 2019 9.
45 Zem CC Diwali – Festival of Light 5.
46 Nancy Stephenson Heart Princess 7.
47 Lorna Stephenson Candy Sweetness 7.
48 Eclipse CC Mhusika 1.
49 Chard Carnival Royalty Chard Royalty.
50 Staplegrove Scout Group Norton's Dancing Dragon 9.
51 Spirit CC Can Can Can 6.
52 Blackbrook & Silver Street Guides The Greatest Showgirls 13.
53 PA Vehicle Denis & Ian Pearce.
54 Poppe Inne CC Itsy Bitsy 3.
55 Happy CC Clown Around 8.
56 Merriott Majorettes Merriott Majorettes 12.
57 Tizzys CC (Academy of Carnival) Just Another Carnival Entry 8.
58 Limelight Theatre Illumin-ocean 13.
59 Judy Williams Shades of Autumn 6.
60 Harlequin CC The Greatest Show 1.
61 Breakdown Vehicle Frosts.
Federation Classes – 1 Feature; 2 Tableau; 3. Comic; 4 Youth; 5 Open; 6 Adult Single Walker; 7. Juvenile single Walker; 8 Walking Pair; 9 Walking Group; 10 Walking Open Non-Federation Classes – 11 Trade; 12 Majorettes; 13 Youth Walking; 14 Supporters (not judged).