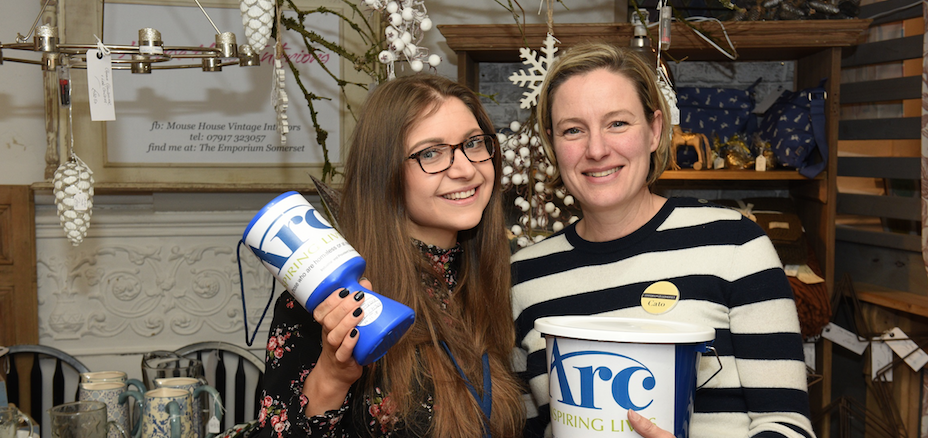 A SHOP in Wellington is launching a collection for a homeless charity during its festive late-night open evening next month (December, 2018).
The Emporium Somerset will be starting the collection for Arc, formerly Taunton Association for the Homeless, on Thursday, December 6 during its late-night Christmas shopping evening from 6pm.
Cato Cooper, Co-owner of The Emporium Somerset on Mantle Street, which includes more than 50 different shops across three floors, selling thousands of home and gift items, said: "At this time of year we can often get caught up in the frenzy of Christmas shopping and finding the perfect gifts for loved-ones, so this year we're asking people to take a moment and think about those less fortunate than ourselves.
"I couldn't imagine what it is like to be homeless and to sleep on a cold pavement at any time of year, let alone at this time of year when the cold weather is setting in, which is why we have decided to launch our collection for Arc.
"We're asking our generous customers who come along to our late-night open evening to perhaps give a small gift in the way of a donation to the charity. We will have collection pots in the shop on the night for people to pop their change into. The collection will continue until the end of February, 2019."
Arc is a homeless charitable organisation, supporting more than 450 people per year. Its mission is to end rough sleeping in the South West, through housing, assisting, supporting and empowering homeless people in Somerset.
Donations can be made at any time from December 6 until the end of February, 2019 at the shop, or if people cannot get to the shop, they can donate online at https://goo.gl/CkHqbD.
Cato added: "This will be our third late-night shopping evening of the year and they have been a huge success. The shop will be full of Christmas decorations and there will be wonderful festive music from Mandy Saunders and Steve Ogilvie from Gigface for people to enjoy too.
"We decided to host a third as a thank you to our customers who have been super supportive throughout the year and to give them the opportunity to browse for gifts outside of our normal opening hours, as many of them work and can't get to us in the day and have family commitments at weekends."
There will be free mince pies and mulled cider, as well as a non-alcoholic alternative, for everyone who attends.
Rosie Sandy, Fundraising and Communications Assistant at Arc, said: "We're delighted to have the support from The Emporium this Christmas. We think it's so important for local communities to stick together, and with the Emporium as a local business and Arc as a local charity, this fits perfectly!
"Donations received and awareness raised at the Emporium's charity collection is going to be a great help towards the support we provide for local homeless individuals, ensuring they have safe and welcoming accommodation and the help they need to move forwards. Thank you so much to all those involved."
The Emporium Somerset is home to more than 50 shopkeepers selling thousands of homeware, garden and gift items.
Housed in a Victorian chapel, it stocks cards, home accessories, furniture, home and garden wares, knick-knacks and a selection of children's toys.
Cato added: "Our store is fresh, vibrant, light and airy with lots of inspirational, contemporary items, as well as traditional and vintage ones.
"Most of our shopkeepers' products are either handmade here in the Westcountry, sourced from other British craftspeople and makers, or from ethical and Fairtrade companies. So, there are plenty of unusual items here for people to have a look at and they are reasonably priced too. By buying from us, shoppers are supporting the very backbone of the nation's economy – small, independent, local businesses."
As well as running the store, Cato also specialises in restoring furniture and runs a paint and home accessories studio and workshop in-store.
The late-night Christmas shopping event will take place on Thursday, December 6 from 6pm until 8.30pm. The shop will be open as usual during the day from 10am until 4.30pm.
For further details, please call The Emporium Somerset on 01823 660076, email info@theemporiumsomerset.co.uk or visit www.theemporiumsomerset.co.uk. Alternatively, you can follow on Facebook at www.facebook.com/theemporiumsomerset or Twitter at @emporiumta21.