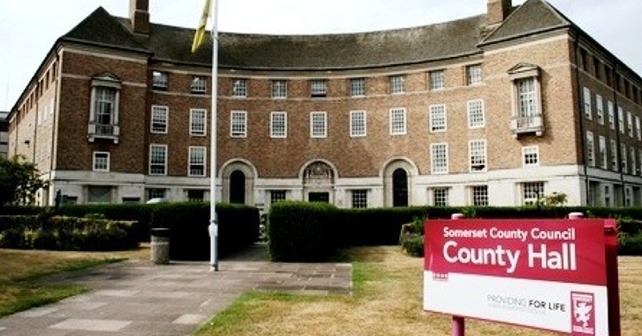 Parents are urged to think one step ahead of their children over the festive period to avoid accidents and have a 'Safer Home' this Christmas.
In Somerset the leading cause for the under 5's having avoidable injuries is falls in their own home.
Somerset County Council and Somerset and Devon Fire and Rescue Service are working together to continue to make homes in the County safer for families.  Somerset families who receive a safer homes referral can receive free home safety and fire safety equipment.
Accidents are a leading cause of death, serious injury and acquired disability for children and young people in the UK. They often happen when people are distracted and serious accidents can happen very quickly, for example when checking social media or taking selfies.  These incidents are largely preventable.
Cllr. Christine Lawrence, Cabinet Member for Public Health and Wellbeing at Somerset County Council said: "During the festive period the risk of accidents for children in the home escalates.  If you want to find out more about seeing if you are eligible for a safer home referral then I would encourage you to speak to your Health Visitor in the first instance.
"Children's capacity for getting into danger increases all the time as they grow. Parents need to stay one step ahead and anticipate their children's next moves to help keep them safe. There is a lot we can do in the home in the run up and through Christmas to keep everyone safe.."
Top tips for a 'Safer home' Christmas are:
Button battery safety:  These tiny, button-shaped batteries are found in a range of gadgets and household items year-round. But in the lead up to Christmas, the risk of a child getting hold of them, and potentially ingesting them, escalates.  If a button battery is swallowed and gets stuck in the throat or gullet, the electrical charge from a button battery creates caustic soda inside the body. This can burn a hole through the throat and can lead to serious internal bleeding and death.
Buying presents: Always head to good retailers that you've heard of and have a good reputation. Make sure you look at the age range on the toy packaging, as babies and toddlers can choke on small parts or swallow harmful parts of the toy.
Other Christmas toy tips: make sure stairs are free from clutter.  Look out for small things that young children can choke on
Visitors and visiting: Make sure visitors to the house, such as grandparents, don't leave medicines in places where children can find them. Clear away any bottles of alcohol and the last dregs of drinks left in glasses.
If you're staying with relatives or friends over Christmas, remember that the top bunk of bunk beds can be dangerous for children under six. And bear in mind that safety items you might have at home, such as stair gates and cupboard locks, might not be available where you are staying.
If you haven't seen it before, or need to be reminded of the risks that button batteries pose then watch this personal story of a father, George, from Hampshire whose toddler Francesca sadly died after swallowing a button battery https://youtu.be/PI794iCPZGc
For further information, please check out the Child Accident Prevention Trust on https://www.capt.org.uk/