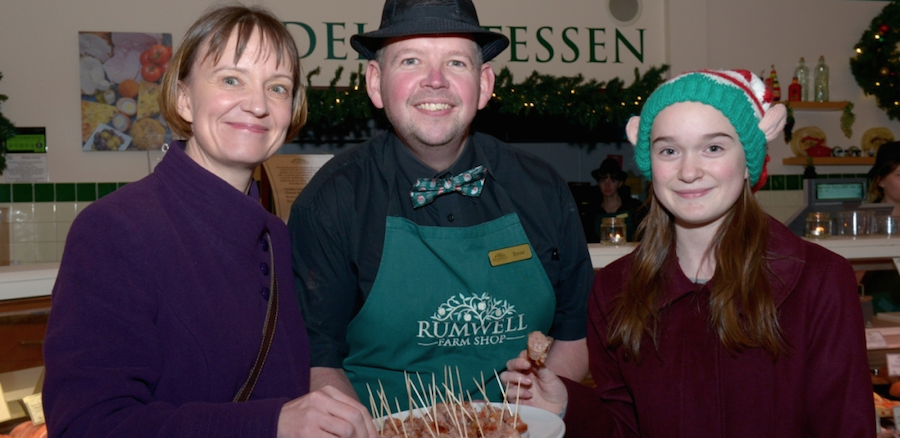 FAMILIES from Somerset are invited to a free candle lit shopping experience with food tastings and festive music at a farm shop in the county.
Rumwell Farm Shop is hosting its annual Rumwell by Candlelight event on Thursday, December 13 from 5pm until 7.30pm to raise money for two charities.
Anne Mitchell, Joint Owner of the farm shop, which is located on the A38 between Taunton and Wellington, explained: "The shop and cafe will be lit by candles and soft lighting during the event, which makes it such a unique, festive experience.
"We are hosting the evening this year in aid of Headway Somerset and Stand Against Violence (SAV). There will be collection buckets throughout the farm shop for people to drop their change into."
People who attend the event will receive a free mulled wine and mince pie on arrival. The Somerset Hills Choir, Parkfield School Choir, Company of Voices Community Choir and the J Singers will be performing Christmas carols and other songs throughout the evening.
Anne added: "There will also be the chance to try some tasty food items made by our staff in our butchery, such as our award-winning sausages.
"Regional suppliers such as 6 O'clock Gin will be on-site too, offering visitors samples of its range of gins. Admission and parking is free."
Headway Somerset provides social and cognitive rehabilitation for adults with brain injury and support and respite for their families through its four Brain Injury Centres based in Bridgwater, Henton, Yeovil & Taunton.
SAV was set up in 2005 following the murder of 17-year-old Lloyd Fouracre. SAV aims to prevent violence, its long-term consequences and the grief of losing loved ones. The workshops it delivers equip and inform students in an effective manner how to Stand Against Violence.
Rumwell Farm Shop is an independent, family-run, award-winning business owned by the Mitchell family. It was originally a potato store, when David and Anne Mitchell began selling their potatoes and free-range eggs at the gate.
Due to customer demand, the range of products soon increased and the farm shop grew into the place it is today. David and Anne's sons, James and Jack, are now also involved in the business.
Rumwell Farm Shop has a traditional butchery counter selling free range pork and Aberdeen Angus beef reared just four miles away on the family farm. There is also a delicatessen, bakery, jam kitchen and food hall.
Home grown potatoes are also still available, when in season, as well as everything from fruit, vegetables and groceries to plants, flowers, gifts and cards.
The Rumwell Cafe is able to seat approximately 80 people. The food prepared in the cafe kitchen is sourced from the farm shop, the Mitchell family farm and regional suppliers.
Families are welcome to the cafe and there is a menu especially for children. The cafe also serves afternoon teas, carvery on a Sunday and is licensed to sell alcoholic beverages.
The Rumwell by Candlelight event will take place at Rumwell Farm Shop on Thursday, December 13 from 5pm until 7.30pm.
For more information, please call Rumwell Farm Shop, which is located in Rumwell between Taunton and Wellington, on 01823 461599, visit www.rumwellfarmshop.com, follow the company on Twitter at www.twitter.com/rumwellfarmshop or log on towww.facebook.com/Rumwellfarmshop.