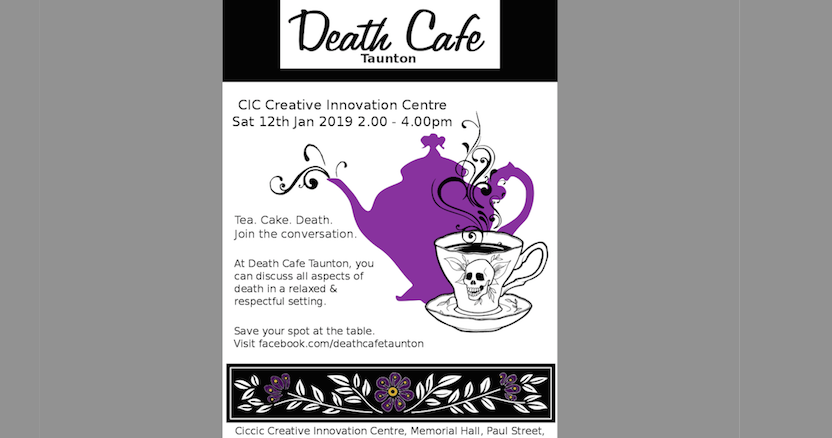 People in Taunton will get the opportunity to make an unusual new year's resolution for 2019: to talk more about death. The first Death Cafe Taunton meeting of the new year will be held on Saturday, 12 January, at the Creative Innovation Centre, Taunton, from 2 to 4 pm.

Death Cafe Taunton is an opportunity for individuals to come together and discuss all aspects of death, in a relaxed and respectful setting. Adults of any age and experience are invited to attend, to enjoy refreshments and talk about death,dying, and beyond.

Wallace Stuart Funeral Directors of Bridgwater will again be in attendance, facilitating discussion and being on hand for advice or to answer questions.
Nicole Stanfield Caile, organiser of Death Cafe Taunton, said this about the event: "The new year is the perfect time to make the resolution to talk about death. What better way to start 2019 than to see what Death Cafe is all about? My hope is that people will become comfortable talking about death with strangers, and then go and talk to their families and loved ones about it. The more people in Taunton who make their wishes known and plan for the end, the better."

Death Cafe is a global movement, with the aim of increasing awareness of death and to help people make the most of their lives. It was started by Jon Underwood in the UK in 2011, based on the work of Swiss sociologist Bernard Crettaz. It exists today as a not-for-profit social franchise, with death cafes popping up all the time, all over the world.

To learn more about Death Cafe Taunton, visit the facebook page: www.facebook.com/deathcafetaunton

To learn more about Death Cafe, visit deathcafe.com